Remember Boo from "Monsters, Inc."? The adorable girl stole our hearts after she entered Monstropolis and befriended two of our favourite scarers, Mike Wazowski and Sulley.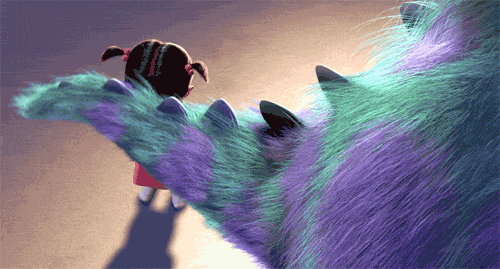 The character of Boo was known for her loud screams, giggles and nonsensical songs, so naturally she was voiced by a five-year-old girl.
Mary Gibbs landed the role thanks to her father, Rob Gibbs, who was a storyboard artist for the film.
Fifteen years after the movie was released, Gibbs is all grown up! The 20-year-old now works as a yoga instructor and leads an active lifestyle. On Instagram, she describes herself as a yogi, hooper, aerialist and climber.
Here's what she looks like now:
And here she is striking a yoga pose:
While Gibbs didn't continue voice acting – although she did provide "additional voices" in "Inside Out," according to IMDB – she hasn't forgotten her experience on the set of "Monsters, Inc." After all, she describes herself as the voice of Boo on Instagram, and her social media handle is "yoga_boo," which EW points out is a tribute to her beloved character.
Last year, Gibbs also shared a number of behind-the-scenes photos of her time in the film's recording studio.
And during a Reddit AMA, she revealed how she came up with the song she sings while Boo goes to the bathroom.
"They told me to sing and I started singing 'Wheels on the Bus,' but they couldn't use any actual songs [because of] copyright issues so they had me babble and sing random words for a few hours and took out the parts they liked the best!" she explained.
While Gibbs revealed on Reddit that her interests no longer lie in voice acting, she did admit that she would be up for reprising her role as Boo all grown up.
"I would love to return as Boo in the future and knowing Pixar in another 10 years there might be another sequel!" she said. "Who knows!"
Looks like Gibbs dream could become a reality. In a recent interview with EW, "Monsters, Inc" director Pete Docter hinted that a sequel could possibly include Boo as an adult.
"You never say never - who knows what will happen?" he said. "We purposely went with a prequel for 'Monsters University' because we didn't want to answer some of the questions about what happens to Boo, and how does she grow up, and things like that. It would have to be really compelling, which is hopefully the benchmark for all of our sequels, anyway."
Also on HuffPost
Kids' Movies We Can't Wait To See In 2016