TORONTO — Ontario's opposition parties are calling on Energy Minister Glenn Thibeault to resign his cabinet post after being named in an Election Act charge against the premier's former deputy chief of staff. Pat Sorbara was charged this week with two bribery counts under the act, and one allegation is that she offered Thibeault an inducement to run for the provincial Liberals.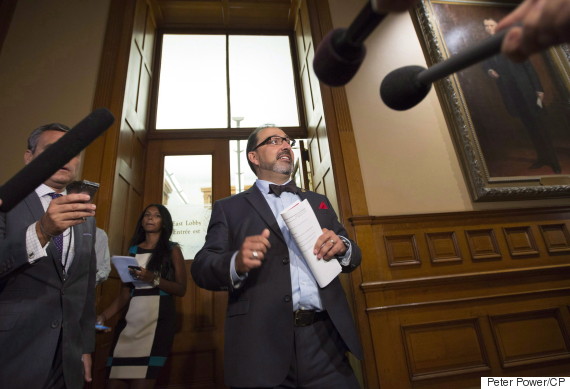 Ontario Energy Minister Glenn Thibeault speaks to media in Toronto on Sept. 12, 2016. (Photo: Peter Power/CP)
Thibeault was a New Democrat MP for Sudbury, Ont., before he ran for the Ontario Liberals in a byelection in that riding in February 2015. He says the premier did not offer him a cabinet position in exchange for running, nor did Sorbara make him any offers. Both the Progressive Conservatives and the NDP are urging Thibeault to step aside until the charges are resolved, but the Liberals are indicating that won't happen.
Not under investigation
Attorney General Yasir Naqvi says Thibeault is not under investigation, nor are there any charges against him. Sorbara recently took a leave of absence from her job as Wynne's deputy chief of staff to become the Ontario Liberals' CEO and 2018 campaign director, posts she resigned from when the charges were laid.
Also on HuffPost
Sudbury Byelection Scandal: Key Dates