A rural Wisconsin high school has stirred up controversy after a dramatic distracted-driving awareness exercise last week.
Students at the school in Brodhead learned during morning announcements that four of their classmates had died in a car accident, according to WMTV.
Several minutes later, in a new announcement, students were told the four were alive and well and that the deaths had been faked as part of a drill.
But throughout the day, more announcements came, saying that more people had died in car crashes.
The "dead" students weren't allowed to use their phones to talk to their classmates.
The student council planned the simulation as part of a safe-driving awareness campaign, the school's principal told WMTV.
But not everyone was happy. Student Madison Trombley said a lot of people were crying and contacting their parents.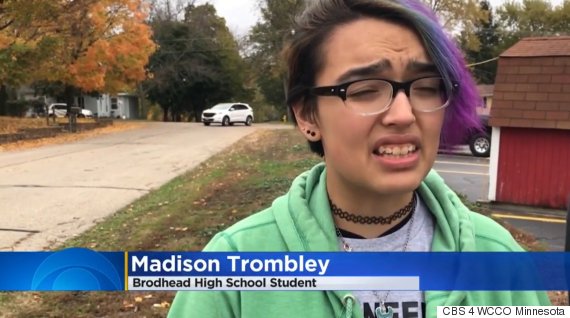 Brodhead student Madison Trombley did not like the exercise. (Photo: CBS 4 WCCO Minnesota/Screenshot)
Sam Bolen texted his mom, he told The Washington Post.
"They went into detail about how one of them was rushed to the hospital," he said.
"I was pretty upset. It is a really small school, like, most of the people really knew who they were."
Bolen's mother Sarah wasn't pleased either. Even though her son had lost an uncle to drunk driving, she said she thought the exercise was "insulting."
"I don't feel that you need to go to those kinds of extremes to teach a lesson."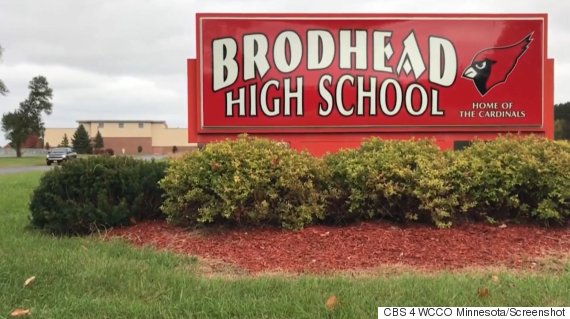 Brodhead is in rural Wisconsin and one student said the school is pretty small. (Photo: CBS 4 WCCO Minnesota/Screenshot)
School district Superintendent Leonard Lueck told the Wisconsin State Journal that there were communication issues with the drill.
"I would say we are not doing this activity again unless we can do it in a manner that wouldn't offend other students, without providing stress to them," he said.
"I don't feel that you need to go to those kinds of extremes to teach a lesson." — Sarah Bolen, mom of student Sam Bolen
But one member of the student council defended the drill on Facebook, saying she'd rather field anger over the exercise then see people upset because their classmates actually died.
"Many schools NATION WIDE take part in a simulation similar to this," Miranda Ryser wrote.
"No one will ever be prepared for the worse (sic) and we're not telling students to be afraid of death."
She also said she thought the exercise had to be over the top.
"If we did anything like this in another way, no one would listen or pay attention to ANYTHING," she wrote.
"Try warning high school students of the dangers they just don't care."
Also on HuffPost
Best Driving Excuses — Abbotsford Police Department