Tim McGraw never fails to move us with his songs.
On Wednesday night, at the 2016 CMA Awards, the country star gave a touching performance of "Humble and Kind" and was joined on stage by a group of very special kids.
In an Instagram post, McGraw revealed that these boys and girls were all students of Nashville teacher Ben Ellis, who passed away in September after a battle with cancer.
McGraw heard about Ellis from a friend after over 400 students and faculty from Christ Presbyterian Academy gathered outside the teacher's home to sing hymns, just days before he died. The touching act was caught on video and immediately went viral.
McGraw then reposted the video to his Instagram page.
After the Latin high school teacher passed away the following week, the 49-year-old country star paid his respects, saying, "The example of love and kindness that showed in his heart through his teaching has impacted so many of his students, and through them has and will continue to impact the world.......time well spent Mr. Ellis, time well spent sir.....rest now, for you shall be well received."
As a final tribute to Ellis, McGraw invited the high school teacher's students to join him on stage at the CMAs. Each student held a candle as they surrounded the singer.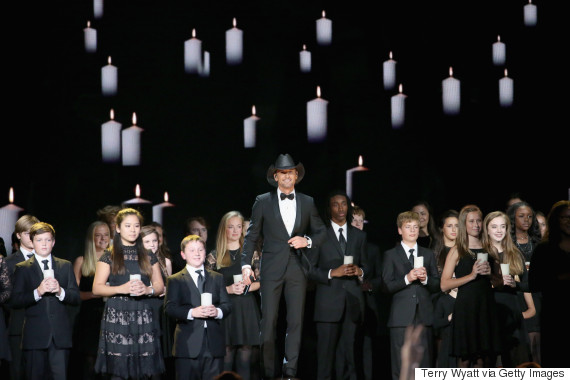 And to make things even more touching, the performance was also meant to celebrate diversity and gay pride, Hollywood Life reports. By the end, McGraw and the students received a standing ovation.
On Twitter, fans were deeply moved.
@TheTimMcGraw thank you for sharing Mr. Ellis' students with us. #CMAawards50 #stayhumbleandkind

— Rhonda Simmons (@rhondasimmons) November 3, 2016
Props to Tim McGraw for the racially/religiously inclusive imagery behind his #cmas performance. Hoping w/o hope that his fans take note.

— Janet Dickerson (@TheRealPRLady) November 3, 2016
Tim McGraw's performance of humble and kind on the CMAs 😍😍😍

— Rosemary Fox (@fox_rose23) November 3, 2016
Tim McGraw, Thank you for honoring the Ben Ellis family tonight at the Country Music Awards!

— Kim Wood Sandusky (@KimWoodSandusky) November 3, 2016
Call me naïve, but folks, Tim McGraw's performance of "Humble and Kind" on the CMAs is the ANSWER. #OneSpecies #Humanity

— Benjamin Lewis (@MrHistory123) November 3, 2016
McGraw certainly knows how to pull on our heartstrings.
Also on HuffPost