The federal defence minister is beating back Conservative charges that Canadian troops set to be deployed on a peacekeeping mission in Africa could be led like "lambs to slaughter."
Harjit Sajjan faced questions in the House of Commons Friday about his remarks at a town hall session with Ottawa high school students the day before. Sajjan said Canada's contribution to a United Nations mission can't just be about preventing violence but must also address the "root causes" of that fighting, including radicalization.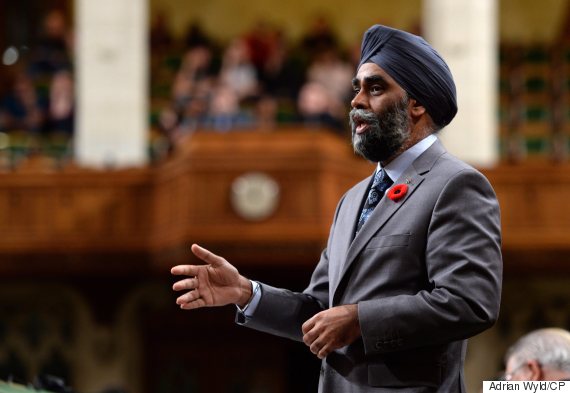 Defence Minister Harjit Sajjan speaks in the House of Commons on Nov. 4, 2016. (Photo: Adrian Wyld/CP)
Prime Minister Justin Trudeau was later asked at a news conference how Canadians can be expected to tackle the root causes of strife in African nations dealing with ethnic or tribal rivalries or corrupt governments.
"Canada has an awful lot to offer other than just stopping people from shooting at each other," Trudeau said, adding that Canadians expect a "layered approach" that attempts to create long-term security.
In question period Friday, Tory defence critic James Bezan demanded to know if Canadian troops will be able to defend themselves when "radicalized terrorists" start shooting at them.
"Or are they expected just to talk to the jihadists about their feelings or the root causes of the conflict?" he asked.
'Robust rules of engagement'
Sajjan assured the House that, wherever troops are deployed, they will have "robust rules of engagement," as well as the right equipment and training.
But he said that every nation looking at global conflicts is also trying to get to the core of the problems.
"We cannot just be sending our soldier's into harm's way all the time," Sajjan said. "We need to start preventing conflict."
Tory associate defence critic Pierre Paul-Hus, who like Sajjan is a veteran, was more aggressive in his questioning.
"Will the government send our soldiers to this mission like lambs to the slaughter?"
Paul-Hus accused Liberals of wanting to send troops to Mali, which is considered perhaps the most dangerous of the possible destinations. Extremists in the West African nation have killed more than 100 peacekeepers in the last four years, including 32 this year.
Paul-Hus charged that Liberals will want soldiers to "act like social workers" in a place where terrorists have made it clear they will target blue helmets.
"Will the government send our soldiers to this mission like lambs to the slaughter?" he asked.
"I actually resent that question," Sajjan fired back.
Sajjan heading to dangerous Mali
The defence minister reiterated that troops will be ready to defend themselves if need be, wherever they are deployed. But smart power, he said, is about trying to reduce conflict — something Canadian troops know how to do.
"While they're ready for the threat, they can also help reduce the threat as well," he said.
Sajjan is headed for a fact-finding mission in Mali and Senegal next week to learn more about the security challenges on the ground. Sajjan's office told The Canadian Press that the visit should not be interpreted as a sign Canada is going to join the Mali mission.
However, International Development Minister Marie-Claude Bibeau also visited Mali in September, as did a reconnaissance team of officials from National Defence, Global Affairs and the RCMP.
Details to be revealed in 'coming weeks': PM
Interim Tory Leader Rona Ambrose has accused Trudeau of using Canadian soldiers as "pawns" in his pursuit of a UN Security Council seat. Ambrose maintains there is "no peace to keep" in Africa.
Liberals have committed up to 600 soldiers, 150 police officers and $450 million for a peace operation in Africa. Trudeau said Thursday that Liberals will reveal their decision about a destination "in the coming weeks."
With files from The Canadian Press
Also on HuffPost
Current MPs With Military Experience (2016)