Connor Franta, a young online superstar with over 5.6 million YouTube subscribers and another six million Twitter followers, is not necessarily known for being political.
But the U.S. election has him as freaked out as everyone else.
"It's been horrible, especially the VP," said Franta of Trump's vice-presidential running mate, former Indiana governor Mike Pence, while recently in Toronto to speak at the annual 20,000-student We Day youth rally.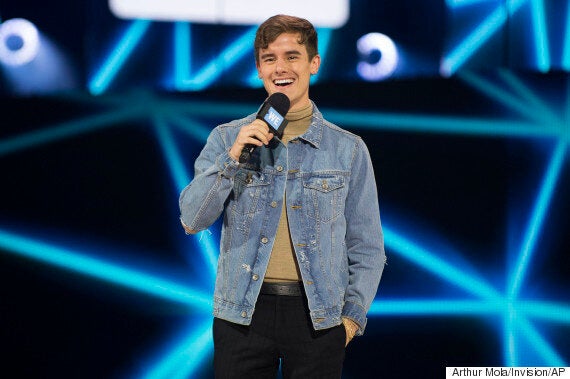 Connor Franta speaks at We Day in Toronto. (Photo: Getty)
"I mean, Donald Trump is horrible in so many ways but apparently [Pence] is incredibly homophobic and I don't think that's been highlighted a lot during this election. Again there are so many issues to deal with that it's not like they need to talk about LGBTQ rights over [others] but it has for some reason been kind of been swept aside even in the Democratic party," Franta says.
Pence's anti-LGBTQ background has had little traction compared to Trump's ceaseless scandals.
But while governor, Pence signed a "religious liberty" law making it legal to discriminate against LGBTQ citizens, though he later watered it down in the face of mass protests.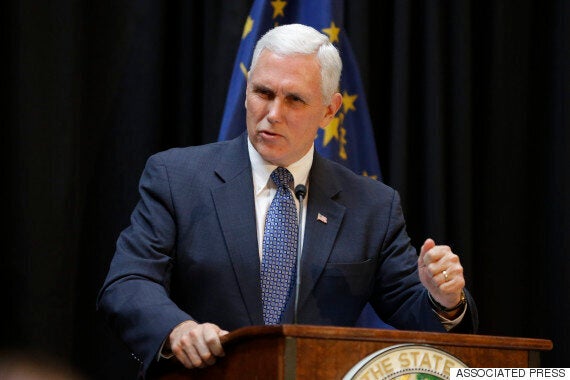 Indiana Gov. Mike Pence before his State of the State address on Tuesday, Jan. 12, 2016. (Photo: AP)
As a member of Congress, he advocated diverting AIDS funding to "gay conversion" therapy programs as well as argued against giving "homosexuals...the protection of anti-discrimination laws similar to those extended to women and ethnic minorities."
He also warned marriage equality would result in "societal collapse" and attempted to criminalize marriage license applications for same-sex couples after the state's ban was struck down.
"Donald Trump is horrible in so many ways but apparently [Pence] is incredibly homophobic."
"Honestly, it's one of those things that you can't believe," Franta says. "I forget that that much ignorance still exists because I live in California where it's completely acceptable and people are so open. West Hollywood, I call it 'the gayest place in the world' and it's great. But I'm in a bubble and I forget there are some places that aren't as progressive so it's just really sad. But again all you can do, especially a person like me who has a large platform, is speak out against it and spread as much awareness as possible."
"This election is so different than all the others I feel like you kind of have to. There aren't any rules anymore."
And so Franta officially endorsed Hillary Clinton in a video that clocked over 200,000 views in the first four hours.
He called the election a choice between "someone who promotes equality among genders, races, sexualities and everything in between and someone who doesn't."
"I will be voting for Hillary Clinton," he said towards the end of the clip, "the only person that I think is qualified to run this country in this election. A beacon of hope."
Franta has been raising awareness regularly since he rose to fame on YouTube a few years back. He received a GLSEN Respect Award for his activism in October.
"Connor Franta has carried the message of respect to millions of young people online, and his authentic self-expression is the type that we envision for all of the youth we serve," GLSEN's executive director Eliza Byard said
But Franta wants to make sure this awareness extends to transgender rights and respects the full diversity of his community.
"I think people just need to remember that it's the LGBTQ+ community. Not just the 'L' or the 'G' or the 'B.' People focus a lot on white gay males like myself and they need to realize there's a whole spectrum of people that don't have the same awareness or the same rights as [I] am fortunate enough to have. So again spreading awareness and realizing that there's more than just that category."
While at We Day, Franta spoke about his own coming out experience, and especially his coming out video which he posted about three years ago and is his second most-watched YouTube video ever, clocking in at over 11 million views.
"I made that video because coming out videos were such an important part of my coming out process and I kinda wanted to give back to that community and I wanted to use my platform to help as many people as possible. So I made that video and it somehow got tons and tons of views and I hopefully helped tons and tons of people."
He says he loves meeting people at events like We Day where young people talk to him about that video because it means he's helped make life a little bit easier for others in the community. And as scared as he might be right now, he wants everyone to realize that "it's better than it ever has been before."
"People focus a lot on white gay males like myself and they need to realize there's a whole spectrum of people that don't have the same awareness or the same rights."
"I hosted a summer camp back in August and I had young kids that are like, 'Can you meet my boyfriend on Skype?' and it was this 13-year-old boy," he says, adding that he couldn't imagine being comfortable enough to do that ten years ago.
"Even though there's a lot of negative facing issues in the media there's a lot of positive going on behind the scenes that just isn't highlighted enough. I do think it's an incredibly positive space but there's still tons and tons of work to do."