It's the day before the earth swallows us all Americans head to the polls to choose the next U.S. president.
Republican candidate Donald Trump was in Florida on Monday to rally his supporters and apparently sear a new nightmarish image into our minds.
Trump, allegedly still the GOP nominee, spotted someone with a mask bearing the likeness of his face in the crowd, according to Politico.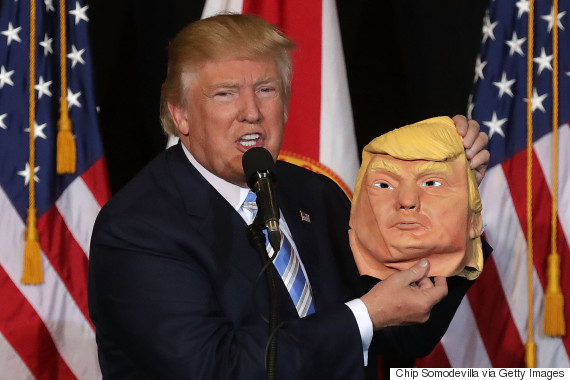 Republican presidential nominee Donald Trump holds up a rubber mask of himself during a campaign rally on Nov. 7 in Sarasota, Fla. (Photo: Chip Somodevilla/Getty Images)
Naturally, he had to comment on it.
"Look at this mask. Look at this mask. Oh wow. Wow, that's beautiful. Look at that. Looks just like me," the living Trump face said.
He then walked into the crowd to retrieve the mask and held it up for the world to see.
"Nice head of hair, I'll say that," he said to loud cheers from the audience.
Of course, the image of Donald Trump holding up a mask of Donald Trump's face was impossible to resist for many on Twitter. Some likened Trump to a "Scooby Doo" villain who is unmasked at the end of each episode of the cartoon series:
And I would have gotten away with it too, if it weren't for you meddling kids! pic.twitter.com/Eyb77MatFN

— Nasty Womadison (@4evrmalone) November 7, 2016
Trump pulls off his mask to reveal another mask which is actually a mirror so we see that we're the true monsters pic.twitter.com/UMiKx6ISnH

— cran-foxxi🍷 (@Foxxi_Love) November 7, 2016
what the actual fuck pic.twitter.com/p1aN09O1Na

— John Hendrickson (@JohnGHendy) November 7, 2016
Trump tossed the mask back to the audience once he was done, uh, inspecting it, while the crowd cheered for their favoured presidential candidate.
"Is there any place more fun to be than a Trump rally?" he asked.
Also on HuffPost
Republicans Who Have Withdrawn Their Support For Donald Trump