OTTAWA — George Lawrence Price was just one of the estimated 66,000 Canadians who died during or as a result of the First World War.
By many accounts, his service during what was hoped to be "the war to end war'' was unremarkable, except that he is widely believed to have been the last Canadian — indeed the last Commonwealth soldier — killed before armistice took effect at 11 a.m. on Nov. 11, 1918.
But it's where Price was laid to rest that links the beginning of the deadly campaign to its bitter end and is perhaps the most poignant reminder of the futility of war, says Tim Cook, the Canadian War Museum's First World War historian.
Official records indicate that Pte. Price took a sniper's bullet in the chest at approximately 10:50 a.m. on the last day of battle while on house-to-house patrol in Ville-sur-Haine, Belgium, just outside Mons. The 25-year-old runner for A Company, 28th Canadian Infantry Battalion, died of his wounds a few minutes later, just two minutes before the fighting was to end. He was later buried at what is now Belgium's St. Symphorien Military Cemetery.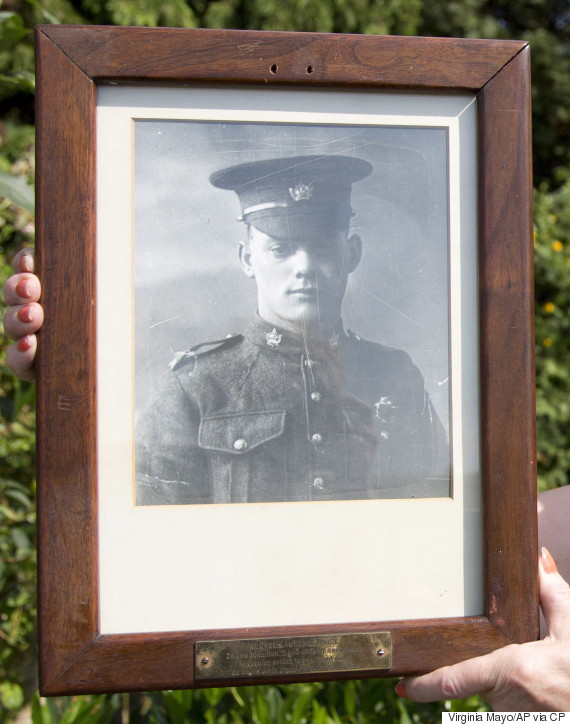 Pte. George Lawrence Price was killed in the Belgian village of Ville-sur-Haine in 1918. (Photo: Virginia May/AP via CP)
Only 30 metres away, in the same cemetery, are the remains of Pte. John Parr, the first British Empire soldier to die in the war, who was killed on Aug. 21, 1914.
"There's something symbolic there ... there is also perhaps something about the futility of war,'' said Cook.
"The first soldier killed and the retreat of the British armies and the mobilization of tens of millions of soldiers, titanic battles around the world, on the oceans, various continents, empires have fallen and all of the fighting gets us back to the start line.''
The museum recently acquired Price's war medals, along with a memorial plaque, from the Royal Canadian Legion branch in Kentville, N.S., where they had been on display largely unnoticed by the rest of the country — and even by his family — for decades.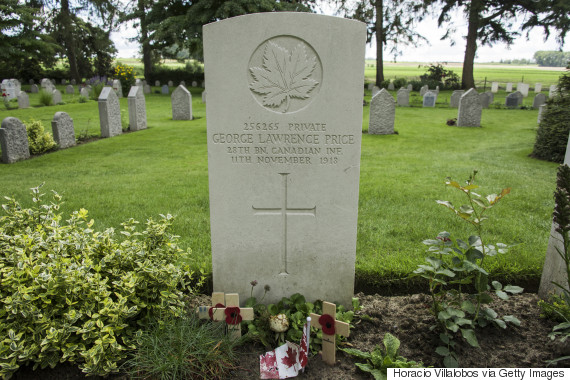 Pte. George Lawrence Price's grave in St. Symphorien Military Cemetery, in Mons, Belgium. (Photo: Horacio Villalobos/Corbis via Getty Images)
"I didn't even know they existed until I'd seen (the medals at the legion),'' said George Barkhouse, Price's nephew, now 87 years old, of Kingsport, N.S.
Not much was said about his uncle when he was growing up, said Barkhouse and there was little family involvement in commemorations of his death until a footbridge was built in Price's honour in 1991 over the Canal du Centre in Ville-sur-Haine.
Price's surviving wartime comrades marked the 50th anniversary of his death in 1968 by placing a plaque on a home near where he died, which was later enshrine in a brick and stone monument after the house was demolished.
There are also no official records indicating why Price had exposed himself to a sniper's scope. On the last day of battle, commanders had been told to instruct their men to "go to ground'' until the armistice was in place. Nobody wanted to be the last soldier to be killed, said Cook.
But for reasons that are still a mystery, Price who was born in Falmouth, N.S., and was conscripted in October 1917 while working as a farm labourer in Saskatchewan, became that last casualty.
"Some say that, in fact, there was a young woman who waved at him, and he waved back,'' said Cook.
"And then he rose from his position, perhaps to kiss her, perhaps to be the first liberator. We're not sure.''
The Price medals
Of the hundreds of medal collections held by the museum, the Price medals hold a symbolic significance in that they mark the end of the First World War, said Eric Fernberg, a collections specialist at the museum.
But each set is important in helping Canadians to remember the sacrifices that were made which helped to shape Canada's history, he said.
"Things get lost in time," said Fernberg.
"But the important thing in the end, things find a home.''
The Price medal set is to go on display in 2018 as part of an exhibition marking the Last Hundred Days campaign of the First World War.
Also on HuffPost
First World War Battlefields