For Canadians channeling their inner nasty woman, there's only one dress code.
SUIT UP.
Calling themselves #PantsuitNation, Toronto women wore Hilary Clinton's signature look to show support for the Democratic presidential candidate.
In #pantsuit & white blouse to vote for @HillaryClinton w/ memories of #suffragettes! A little emotional. Let's get in Formation! @Beyonce pic.twitter.com/TSSQTaqBq3

— Dr. Belinda Setters (@BelindaSetters) November 8, 2016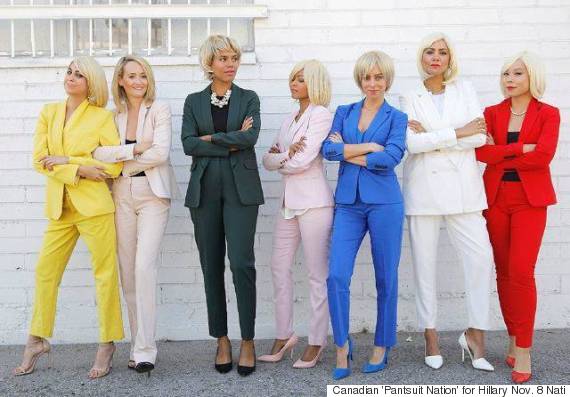 Women wear pantsuits in support of Hilary Clinton (Photo from Facebook page "Canadian 'Pantsuit Nation' for Hillary Nov. 8 Nationwide.")
And what better place to flaunt their political stuff than in front of city hall's iconic Toronto sign?
Pantsuit squad, assemble!
Sitting in the Toronto sign's O with @sarahboesveld because OMG I voted for a woman to be president #ElectionDay #Vote2016 #pantsuitnation pic.twitter.com/IX2hFBNpN6

— Alanna Evans (@agraceglass) November 8, 2016
The impromptu meetup happened because of "Pantsuit Day," which encourages Clinton supporters worldwide to don their best power uniform on election day.
Should have known it was @sarahLazarovic behind #pantsuitnation pic.twitter.com/NxUubYMwpe

— Siri Agrell (@SiriAgrell) November 8, 2016
Proud pantsuit-wearing local Tracey Nolan told Metro that women wearing the suit are also wearing layers of political symbolism.
"It's utilitarian, it gets the job done, it's sort of all the things people say about Hillary in a negative way," she says.
The #pantsuitnation in Canada is excited for tonight! @HillaryClinton @DemsAbroad pic.twitter.com/WFeQAIuyjl

— Jillianne (@JillianneR) November 8, 2016
Toronto For Everybody got in on the fashion fun with a store sign mimicking those from local establishment Honest Ed's.
#PresidentHillary? Suits us fine! #PantsuitNation #WereWithHer #TO4Hillary #TO4E #HonestEds #The6ix #ElectionDay pic.twitter.com/iv8DiGl6f7

— TO For Everyone (@TO4Everyone) November 8, 2016
#PantsuitNation's origins come from a Clinton solidarity Facebook group with more than two million members.
YESSSSSS. As seen in the Castro, San Francisco #pantsuitnation #imwithher #LGBTQ #vote pic.twitter.com/7x7MzKkyHD

— Lisa Edelstein (@LisaEdelstein) November 6, 2016
Other Clinton supporters in the U.S. chose to wear white, paying tribute to suffragettes.
Very proud & emotional to stand with dozens of women young & old honoring women before us who fought for our right to vote. #wearwhitetovote pic.twitter.com/Swspm36NtJ

— Danielle Ruth Ray (@DrayRuth) October 26, 2016
The colour is closely related to women's rights and Clinton's white pantsuit from the Democratic National Convention.
Clinton has distant French-Canadian ancestry, CBC reports.
Follow Huffington Post Canada Style on Pinterest, Facebook and Twitter!
Also on HuffPost
hilary clinton style evolution