Finance Minister Bill Morneau won't say whether the federal Liberals' stimulus spending plans on infrastructure will result in privately-owned toll roads and other user fees.
In an interview with Evan Solomon on CTV's Question Period on Sunday, and flagged Monday by the Broadbent Institute's blog, Morneau dodged the question of whether the infrastructure bank the government plans to create will result in tolls on newly-built roads and highways.
"Sometimes you're not going to get an answer," Morneau quipped after Solomon pressed him on the issue.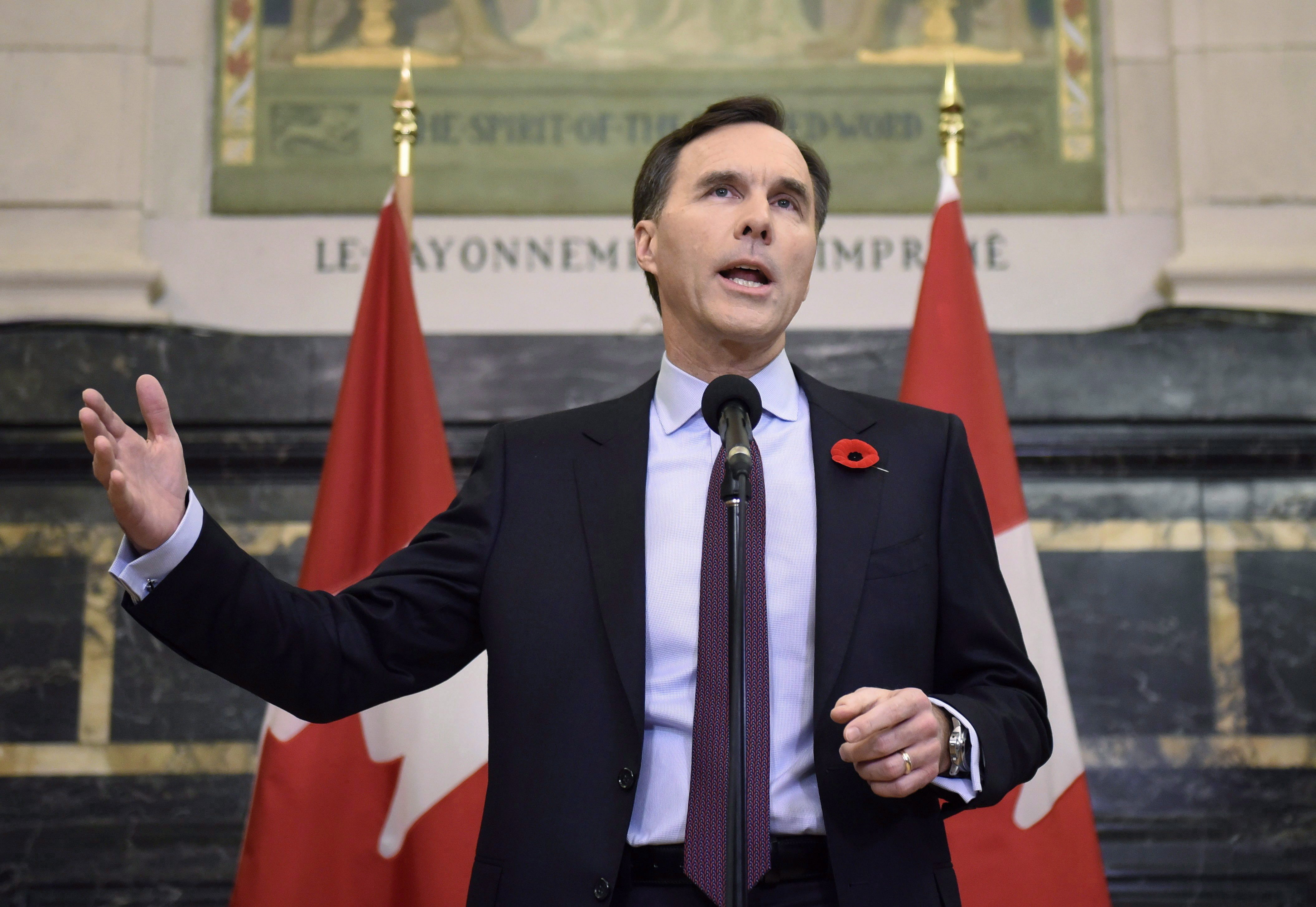 Minister of Finance Bill Morneau speaks during a press conference before tabling the Fall Economic Statement, on Parliament Hill, Tuesday, Nov. 1, 2016. Morneau announced the formation of a Canadian infrastructure bank that critics say will result in privatized infrastructure, road tolls and user fees. (Photo: The Canadian Press/Justin Tang)
The finance minister said "there is not necessarily just one way" for private businesses to make money off of investments in public projects, and suggested that not all projects would be funded through the bank.
"We in the federal government are not going to tell a municipality or province, 'This is how you have to do this,'" Morneau said.
But he added that he "won't take any ideas off the table" when it comes to funding projects.
In a fiscal update on Nov. 1, Morneau announced the Liberals intend to start a Canada Infrastructure Bank with $35 billion in government money, to attract private investors to large infrastructure projects.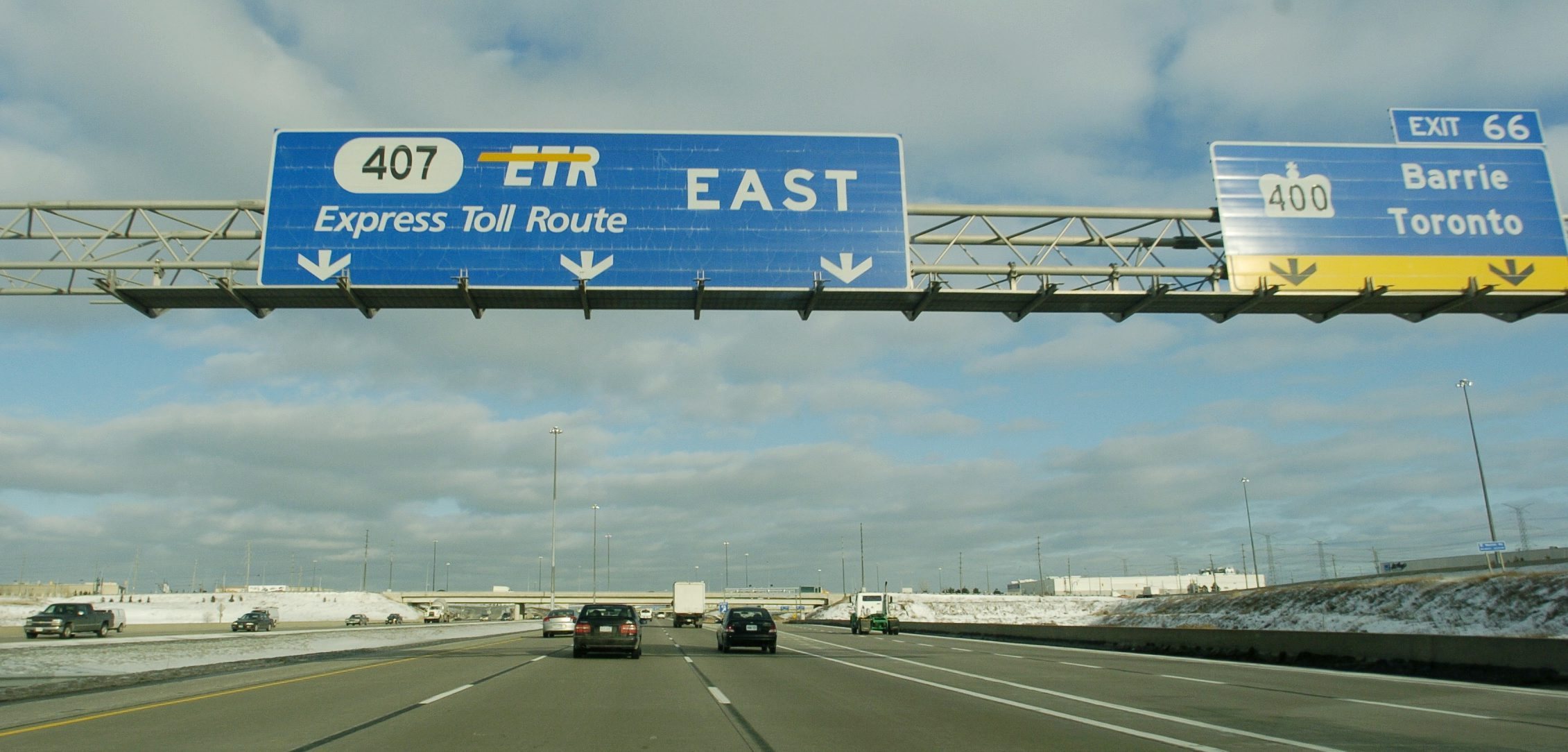 The Highway 407 Express Toll Route in Greater Toronto is one of the country's few toll highways. An Australian consortium collects tolls from the road, after the Ontario government sold a 99-year lease on it for $3.1 billion in 1998. (Photo: Tibor Kolley/The Canadian Press)
The public-private partnerships created by the bank would allow for projects to be built faster than would otherwise be possible, the Liberals argue. The bank could potentially raise another $160 billion towards infrastructure projects over 10 years.
But critics, including the NDP, say those private investors invariably ask for bridge and highway tolls as a way to recoup their investment and make long-term profits. They've attacked the Liberal plan as a back-door privatization of Canada's infrastructure.
"The Liberals never told Canadians about their privatization plans during the election, but now it's become their misguided response to a struggling economy and shaky finances," NDP finance critic Guy Caron said last week.
"Instead of investing in Canadian jobs, the Liberals will privatize infrastructure while delaying the vast majority of new investments by another two mandates."
Caron was referring to the fact that the Liberals, in their fall update, extended the time-frame for $48 billion in infrastructure spending by an additional two years, to 2028. By that time the country will have gone through three more federal elections.
The Conservative Party has also criticized the infrastructure bank. MP Gerard Deltell last week noted that private funds can already invest in Canadian infrastructure projects. He suggested the bank idea showed the Liberals had lost control of government spending.
"The finance minister is all wrong," Deltell said.
But Morneau argued on CTV that an investment bank would supply its own expertise, helping investors map out a plan to make profits from infrastructure spending.
The Liberals say they will finalize their plans for the infrastructure bank in next year's budget. But they are not waiting that long to pitch the business community. That work begins later this month when Morneau will give presentations to large institutional investors in Toronto, the Globe and Mail reports.
-- With files from The Canadian Press