TORONTO — Ontario Premier Kathleen Wynne says the task of shattering glass ceilings "just got a little bit harder" after Hillary Clinton's loss to Donald Trump in the American election. Wynne told The Canadian Press that she, like many other people, had hoped the United States would elect its first female president because it would have been great for young women to see.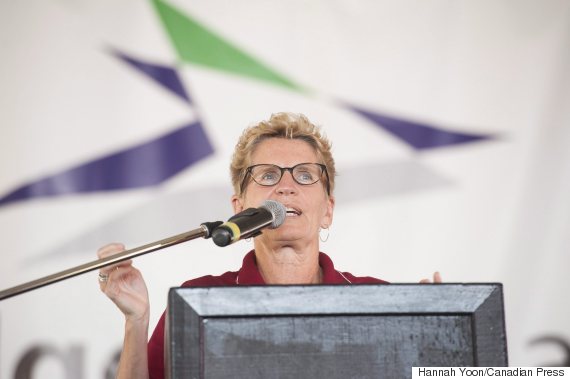 Ontario Premier Kathleen Wynne speaks at the opening ceremonies of International Plowing Match in Harriston, Ont. on Sept. 20, 2016. (Photo: Hannah Yoon/Canadian Press)
The premier says those striving for equality can't let themselves be discouraged, even though it would be easy to, given "some of the attitudes that were stirred up during the election campaign." Clinton, in her concession speech, said that America is more deeply divided than she and her supporters thought. Wynne says she fears that divisions along not just gender, racial and many other lines were widened during the campaign and they will be difficult to bridge. She says that while she is shocked by Trump's win, the United States is still the province's No. 1 trading partner so it is very important to keep the relationship intact.
Also on HuffPost
Getty Images

Getty Images

Getty Images

Getty Images

Getty Images

Getty Images

Getty Images

Getty Images

Getty Images

Getty Images

Getty Images

Getty Images

Getty Images

Getty Images

Getty Images

Getty Images

Getty Images

Getty Images

Getty Images

Getty Images

Getty Images

Getty Images

Getty Images

Getty Images

Getty Images

Getty Images

Getty Images

Getty Images

Getty Images

Getty Images