Gun owners had plenty of reason to cheer for Donald Trump's victory in the U.S. election on Tuesday.
Gun makers? Not as much.
Shares of firearms manufacturers were down as much as 10 per cent on Wednesday, according to Globe and Mail reporter Paul Waldie.
The reason? People no longer have anything worry about when it comes to gun control, he tweeted.
Weird: Trump win sends shares of gun makers down more than 10%, no more worries of gun control means no rush to buy guns.

— Paul Waldie (@pwaldieGLOBE) November 9, 2016
Weapons manufacturer Smith and Wesson Holding Corp. saw its shares drop by more than 16 per cent on Wednesday. Strum, Ruger and Company, another weapons manufacturer, was down by over 14 per cent around the same time.
Leading up to the election, firearms sales surged as buyers feared gun control measure that could come with a Hillary Clinton administration, The Guardian reported.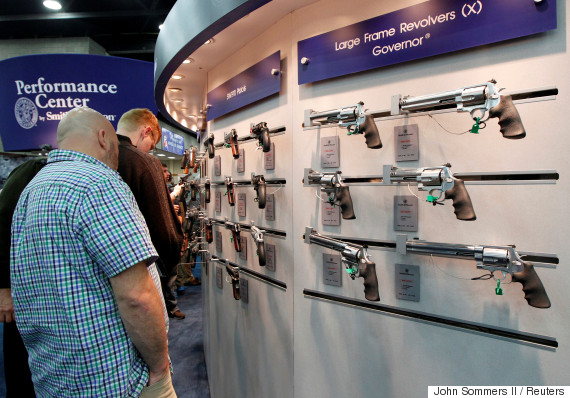 Gun enthusiasts look over Smith & Wesson guns at the National Rifle Association's (NRA) annual meetings and exhibits show in Louisville, Ky. on May 21. (Photo: John Sommers/Reuters)
Throughout his campaign, Trump said he would "defend the rights of law-abiding gun owners."
He said that the "right to carry" should be legal in all 50 states. Open carrying of handguns is currently prohibited in five states: California, New York, Illinois, South Carolina, and Florida.
Clinton, meanwhile, pledged to expand background checks and "keep military-style weapons" off American streets.
Also on HuffPost
Donald Trump's Victory Speech