Toronto's Spin Master has done it again. The toy company that brought kids to a fervour over Zoomer robotic pets has created the hottest toy of 2016: Hatchimals. But they're already sold out everywhere, leaving parents in a panic.
WTF is a Hatchimal? Good question.
Hatchimals the hottest holiday #toy is now available to order online https://t.co/jDImIfMW4p #Hatchimals pic.twitter.com/BiccLR2FTk

— Alexa Starr (@AlexaStarr97) November 1, 2016
Imagine a large, speckled egg that hatches as a result of touch and sound. Inside, your child will find a bright, fuzzy robotic creature. It could be a Draggle, Penguala, Owlicorn, Burtle or Bearakeet (don't worry if you can't tell the difference, they look pretty similar.) That's when the fun starts. Kids then teach it to walk, talk and play using specific phrases.
"Hatchimals incorporate the very best elements of nurturing play with the interactivity of robotics in a truly innovative and entertaining way," Ben Varadi, Spin Master's chief creative officer, said in a press release. "This is one of the most unique products Spin Master has ever launched and we're confident that the consumer response will be strong."
Well, that's putting it mildly. The toy retails between $60 and $90 and it has sold out online everywhere. Sears, Toys R Us, Mastermind, Chapters... no one has it.
Both Mastermind and Chapters confirmed with HuffPost Canada via email that they are sold out and working hard to restock the shelves with the elusive creature. In the meantime, frantic parents, aunties, uncles and grandparents continue to look.
mainly going to sleep worried I won't be able to find a #hatchimal to buy my nephew for Christmas

— BJ (@britjulian) November 9, 2016
Any of my #London or #USA based pals get hold of a blue, green or teal #Hatchimal ?? I'm about to have a breakdown.... #WhereAreYouSanta??

— Liz Wilkinson (@liz8wilkinson) November 8, 2016
My 3 yr old has exactly one thing on his list this year. Of course it's a #hatchimal and I can't find one anywhere. #hatchimals :(

— Kristen White (@kwhite0221) November 5, 2016
Spin Master has issued this statement on its Hatchimals site:
The consumer response to Hatchimals has been extraordinary, exceeding all expectations. Some of our first shipments have already sold out. While additional product will hit retail shelves in November, we anticipate this inventory will also sell out quickly.

We have increased production and a whole new batch of Hatchimals will be ready to hatch in early 2017. This is a special season and we don't want anyone to be disappointed, nor do we support inflated prices from non-authorized resellers.

We are working on creative solutions to help kids and their parents withstand the wait. In the interim, some retailers are developing pre-sale and/or rain-check programs for redemption in January. We will continue to update with program details as they become available.
This mention of inflated pricing is referring to sellers on Amazon and eBay taking advantage of the situation, trying to get more than $2,600 for one of these furballs.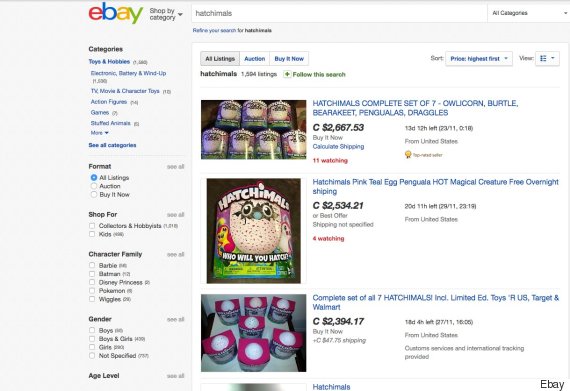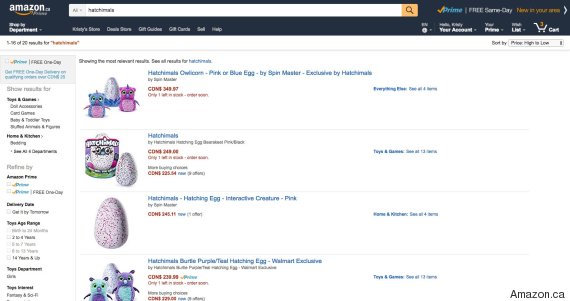 Not wanting to disappoint the kidlets this season, parents are forking over the cash.
Can't believe ive just paid that much for a Flippin #hatchimal #bearkeet #£99 😱🎄🎁 pic.twitter.com/juJYG5ZITq

— Andrea :-P (@twistolipz) October 28, 2016
Because, seriously, happy faces like this is all we want for Christmas morning.
Rileys #Hatchimal hatched, baby #Penguela 🐧🐧😀 I wish we had a Real fire breathing dragon. But this will do. #lovetoys pic.twitter.com/0U5VpDRg7a

— TaraRizzor (@743770ae5498497) October 25, 2016
Also on HuffPost