Shortly before Donald Trump was officially heralded as America's president-elect early Wednesday morning, CBC News' Peter Mansbridge was interviewing a very important political expert: Mark Critch.
The CBC comedian, who was in a Halifax bar as the election slowly came to its dramatic close, already knew who he was going to blame for Trump's victory.

CBC comedian Mark Critch, right, joked that anchor Peter Mansbridge was retiring because he knew Donald Trump would be elected president. (Photo: CBC News/YouTube)
"What the hell did you do, Mansbridge?" Critch said. "I go away for two hours, I come back and Trump is going to be president."
Critch joked that the long-time anchor and veteran CBC reporter Terry Milewski were retiring because they knew Trump would be elected.
"I'm terrified... and I blame you, Mansbridge," he said. "You and Milewski, cause he screwed off too, so I think you guys were in the know."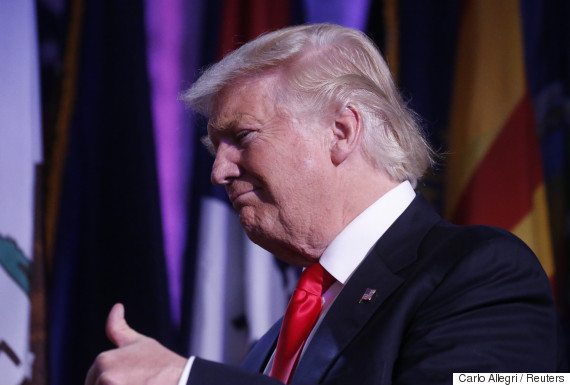 U.S. President-elect Donald Trump arrives to speak at his election night rally in Manhattan on Nov. 9. (Photo: Carlo Allegri/Reuters)
Critch then proceeded to chug a pint of beer, mirroring what most Canadians were/are doing after the official results came in.
It's possibly one of the only light-hearted moments during Tuesday and Wednesday's coverage, and judging from the election's outcome, we're going to need a whole lot more.
Watch Mansbridge and Critch's segment in the video above.
Also on HuffPost
Donald Trump's Victory Speech