Donald Trump's stunning ascent to the White House has made Canada the lone champion of multiculturalism among major Western democracies, says Stephen Marche.
In a column published in The Walrus, the Toronto author mused on an America careening toward an uncertain future, led by a man who has never held a position in elected office.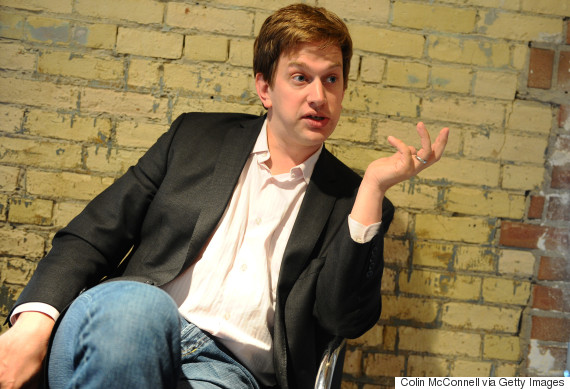 Stephen Marche pictured in June 2011. (Photo: Colin McConnell/Toronto Star via Getty Images)
Marche writes:
We are increasingly alone. This loneliness is going to define us in the coming months and years, possibly forever. We are the last country on earth to believe in multiculturalism. We are one of the last countries on earth to believe in the freedom of trade. The irony of our situation is obvious: We are most open to the world at the exact moment the world has closed.
He argues that with unexpected voting results awarding Trump the presidency; the United Kingdom's approval of its Brexit; and rise of nationalism in an increasingly divided Europe — Canada can no longer rely on these countries as progressive role models.
Canada became the first country to adopt multiculturalism as a national policy back in 1971. A decade later, it became enshrined into the Canadian Charter of Rights and Freedoms.
Marche made mention of how the Conservative Party's 2015 election campaign, marked with anti-Muslim politics, didn't gel with Canadians. That rejection of "race-baiting" party tactics puts Canada in a "unique" place in the world, he said.
"We must make it work better and we must make it work for everyone."
The Huffington Post Canada reached out to Heritage Minister Mélanie Joly's office for comment about the country's new position in the world, but did not receive a response before publication.
Uncertainty for Canada-U.S. relations
Prime Minister Justin Trudeau called Trump to congratulate him on his election victory late Wednesday and invited the president-elect to visit Canada "at his earliest opportunity."
When asked about Trump, Trudeau told reporters in Sydney, N.S. on Thursday that the expectations of his office compel him to "work constructively" with world leaders, regardless of where they fall on the political spectrum.
"Canadians expect me to stand up for Canadian rights, Canadian opportunities, Canadian jobs and Canadian values," he said, pledging to continue to work in a way that will benefit Canada and "its position in the world."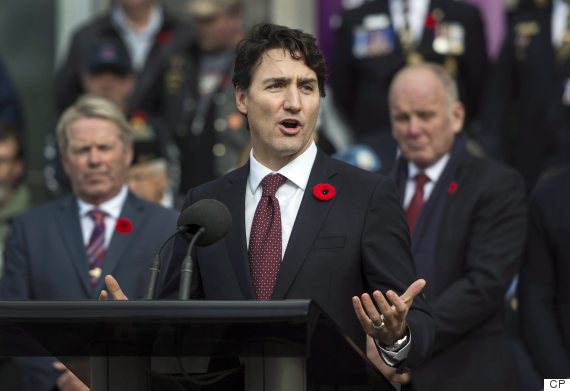 Prime Minister Justin Trudeau speaks at the official reopening of the Veterans Affairs office in Sydney, N.S. on Nov. 10. (Photo: Darren Calabrese/The Canadian Press)
The prime minister's former foreign policy advisor Roland Paris told The Huffington Post Canada that Trudeau is the country's "greatest asset" on the global stage.
"[Trudeau] enjoys a platform and visibility in the United States that no Canadian leader in history has enjoyed — including his own father — and we don't know how long that will last, so [he] … needs to be put to good use."
Trump: I will make America 'better and stronger'
Trump launched his bid for the presidency 18 months ago by descending an escalator in the gilded lobby of his namesake Manhattan tower. One of the first things he promised was to build a "great wall" separating the U.S. from Mexico to halt illegal immigration.
"And I will have Mexico pay for that wall," he said at the time during his 45-minute speech.
Trump ended things by declaring the American dream dead. "But if I get elected president I will bring it back bigger and better and stronger than ever before," he said.
Over the course of his campaign, his xenophobia includes support toward a national registry of the country's Muslims. When pressed for the specifics of how such a plan would be implemented, Trump drew a blank.
"Different places. You sign up at different places. But it's all about management. Our country has no management," he said, reported the New York Times.
According to the Independent, Trump's statement promising to ban all Muslims from entering the United States has been erased from his website less than 48 hours after his election day victory.
But mention of the controversial ban eventually returned to Trump's website by Thursday afternoon.
Citing concerns about safety, he made the reactionary "Muslim ban" promise in wake of terrorist attacks in Paris last year. He had justified his call as a means of giving himself and U.S. authorities time to sort out "what the hell was going on."
Trump will be sworn into office as the 45th president of the United States on Jan. 20, 2017.
With files from Althia Raj
Also on HuffPost