Prime Minister Justin Trudeau says he delivered the same message to his kids after Donald Trump's victory that he has been telling Canadians for months.
At an event in Nova Scotia on Thursday, Trudeau was specifically asked what he told his daughter after Trump won the American presidency this week.
Several women have accused Trump of sexual assault and the brash Republican has a long track record of stomach-churning, offensive comments about women. He defeated Democrat Hillary Clinton, the first woman nominated to lead a major American political party.
"I told my kids that the relationship between Canada and the U.S. is a deep and positive one," Trudeau said, adding that was the same message he gave tens of thousands of kids at a WE Day event in Ottawa the day before.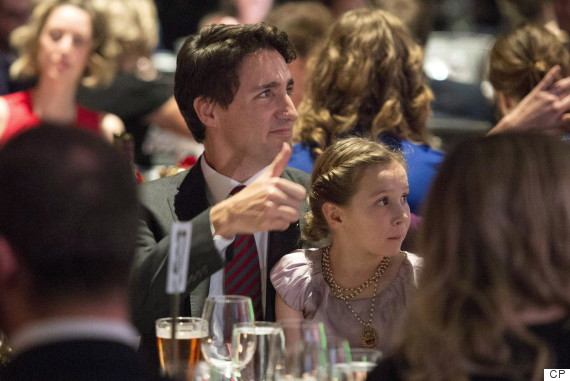 Prime Minister Justin Trudeau gives a thumbs up as he sits with his daughter Ella-Grace at an event in Ottawa in December 2015. (Photo: Justin Tang/Canadian Press)
Trudeau has two sons and a daughter: Xavier, 9, Ella-Grace 7, and Hadrian, 2.
Trudeau suggested people in this country are used to making things work, even when they don't see eye-to-eye.
"We're Canadians. We work hard to get along with people, we work hard to push our interests," he said. "That's what I told my kids, that's what I told the kids gathered at WE Day and that's what I tell Canadians.
"We're going to work constructively on this important relationship because that's what people expect."
"We're Canadians. We work hard to get along with people, we work hard to push our interests."
Trudeau did not budge from those sentiments whenever he was asked about Trump in the last year. The prime minister maintained he did not want to interfere in another country's election and repeatedly said he would work with either Trump or Clinton.
After a tape was released of Trump bragging about grabbing women by the genitals, Trudeau was asked for his response as a proud "feminist prime minister." Again, he said he didn't want to insert himself in the campaign but suggested people know where he stands.
"I've been very, very clear in my approach as a feminist, as someone who has stood clearly and strongly all my life around issues of sexual harassment, standing against violence against women, that I don't need to make any further comment at this time," Trudeau said last month.
However, his wife, Sophie Gregoire Trudeau, told a forum of girls that such language of "aggression and violence or rape culture" should not be considered "normal" in society.
"The good news is we don't agree with that. And a lot of people don't agree with that as well," she said.
Trudeau spoke with Trump late Wednesday evening and extended an invitation to visit Ottawa once he takes office.
The prime minister told reporters Thursday that Trump "expressed warmth towards Canada" during their chat.
"It was a brief call but a strong beginning to what is going to be a constructive relationship," he said.
Conservatives have already called on Trudeau to take immediate action to press Trump on approving the Keystone XL pipeline.
NDP Leader Thomas Mulcair, meanwhile, told reporters this in Montreal that Trudeau needs to "stand up" to the incoming president.
"I think when you see the type of racist, sexist comments that were made by Mr. Trump during the campaign those are things we don't want here in Canada," Mulcair said.
But The Canadian Press reports that Mulcair refused to call Trump a "fascist," as he did last year, and noted the party has taken down an online petition to ban Trump from entering Canada
With files from The Canadian Press
Also on HuffPost
18 Real Things Donald Trump Has Said About Women