There are some silver linings in the U.S. election results.
Americans may not have gotten their first female president, but the election finale did include some wins for diversity.
1) Ilhan Omar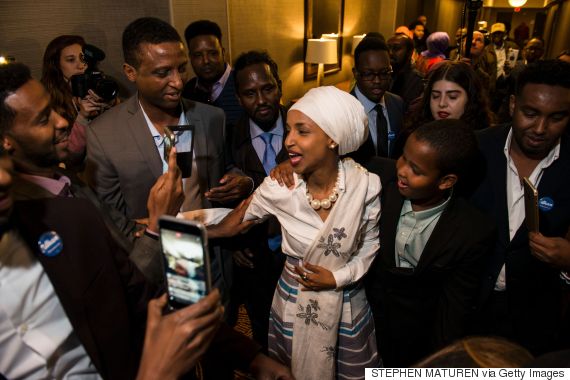 Ilhan Omar, candidate for State Representative for District 60B in Minnesota, arrives for her victory party on election night, Nov. 8, 2016 in Minneapolis, Minnesota. (Photo: Stephen Maturen/AFP/Getty Images)

On Tuesday, Ilhan Omar became the first Somali-American Muslim woman to be elected to public office. Omar, who lived in a Kenyan refugee camp for four years before immigrating to the U.S., defeated her Republican opponent to win a seat in Minnesota's legislature.
"Tonight, we are celebrating this win, our win. But our work won't stop," she said after the election, according to The Guardian.
"We will continue to build a more prosperous and equitable district, state and nation where each and every one of us has opportunities to thrive and move forward together."
2) Catherine Cortez Masto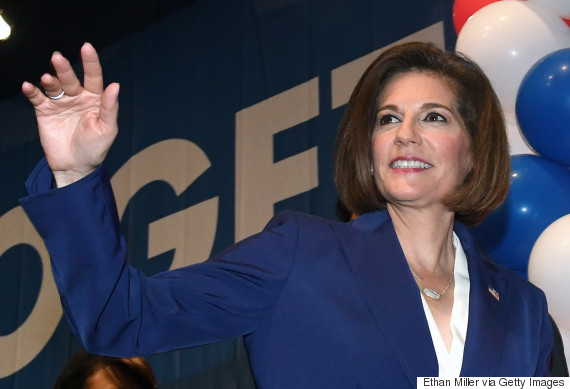 Catherine Cortez Masto waves to supporters after winning her senate race against U.S. Rep Joe Heck at the Nevada Democratic Party's election results watch party on Nov. 8 in Las Vegas. (Photo: Ethan Miller/Getty Images)

Over in Nevada, Catherine Cortez Masto's victory made her the first Latina to be elected to the U.S. Senate. NBC News reports the 52-year-old Democratic nominee scored 49 per cent of the vote, while her Republican rival Joe Heck received 44 per cent.
"I want you to know this isn't my win, it is our win. We did this together," she said after her win.
"The multicoloured fabric of Nevada, the diversity here, is our strength and I can see from your faces that we are going to continue to be strong and continue to fight for our families, for our future — here in Nevada and across this country."
3) Kamala Harris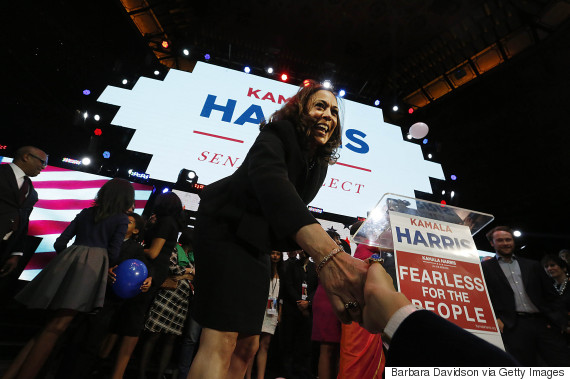 Kamala Harris celebrates winning her Senate race at her rally on Nov. 8 in Los Angeles. (Photo: Barbara Davidson/Los Angeles Times)

Kamala Harris' victory in California is a diversity win on two fronts. Harris, born to an Indian mother and a Jamaican father, became the first Indian-American senator and the second black woman to be elected to the legislative chamber, according to the Los Angeles Times.
She is also the first black senator from California.
After her election night victory, Harris said she will "fight for who we are and for our ideals," according to the Associated Press. She has vowed to push on immigration reform and fighting climate change.
4) Kate Brown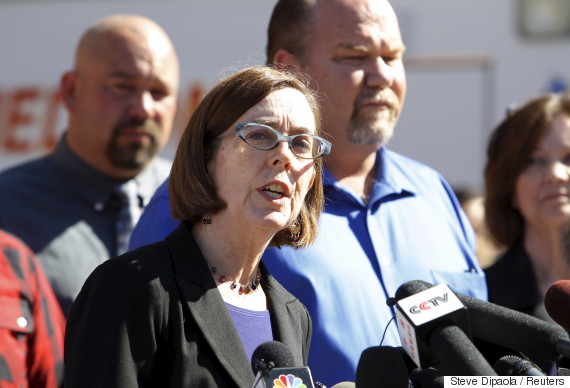 Oregon Governor Kate Brown speaks at a news conference in Roseburg, Ore. in October 2015. (Photo:Steve Dipaola/Reuters)

Kate Brown was already America's first openly bisexual governor, but on Tuesday she was officially elected to her position.
Brown became Oregon governor in 2015 after John Kitzhaber was forced to resign amid a scandal that involved his fiancee.
During this week's gubernatorial election, Brown was elected to serve the remainder of Kitzhaber's term with 51 per cent of the vote, while her Republican opponent Bud Pierce received 44 per cent.
'You can't be what you can't see'
Brown did not disclose her sexual orientation herself. She was outed in 1995 in a story about LGBTQ legislators. But since then, she has had no trouble discussing the topic.
"It doesn't bother me ... because what I think is really important is that kids see role models," Brown told The Huffington Post in October. "You can't be what you can't see."
5) Tammy Duckworth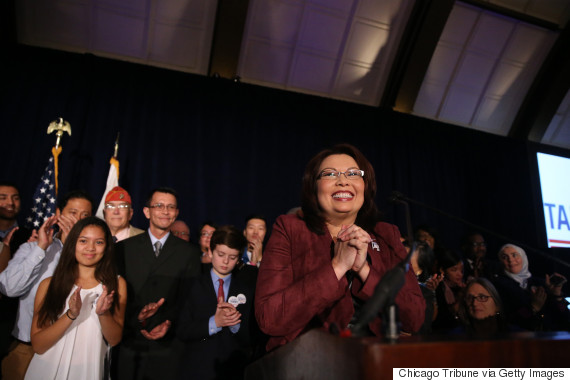 Democrat Tammy Duckworth declares victory in her bid to unseat Republican Senator Mark Kirk on Nov. 8, 2016 in Chicago. (Photo: Chris Sweda/Chicago Tribune/TNS via Getty Images)

Another significant senate race for the Democrats was won by Tammy Duckworth. The Iraq War veteran and two-term congresswoman reclaimed the Illinois seat that was once held by Barack Obama.
Duckworth becomes the first female senator to have seen combat and just the second Asian-American senator.
"She is going to be a great senator for Illinois," Obama said to attendees at a fundraiser for Duckworth in October.
"I cannot think of a better person to represent this state that I love."
Also on HuffPost