VANCOUVER - A man was fatally shot by Vancouver police Thursday afternoon after confronting officers called to a robbery in progress at a Canadian Tire store.
Sgt. Brian Montague said a police officer and an employee of the store were both stabbed during the incident. They were listed in stable condition in hospital and Montague said both were expected to survive.
A suspect ran into police as he was trying to flee from the store near Grandview Highway and Rupert Street in east Vancouver shortly after 3 p.m.
The officer, who was stabbed multiple times, has been with the department for five years, said Montague.
The suspect died at the scene.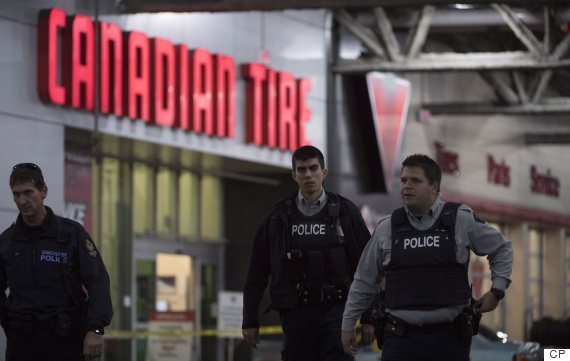 Police are seen outside a Canadian Tire store in Vancouver after a robbery on Nov. 10, 2016. (Photo: Jonathan Hayward/Canadian Press)
"When we hear that employees have been injured in that robbery, we want to be careful about how we proceed but we also want to make sure that we don't have someone going on some sort of a rampage inside the store," Montague said.
"So as our officers went to go in to make sure everyone was OK, our suspect was coming out."
He said it's unclear whether one or multiple officers fired shots at the suspect and the Independent Investigations Office will help determine that. The provincial police watchdog investigates when there has been a death or serious harm suffered in cases involving police to look at whether an officer may have committed an offence.
'Then you hear shots go off...'
Katarina Mitchell, 24, said she was in the upstairs parking lot of the Canadian Tire when she saw employees and customers running out of the store. Moments later, she said she heard sirens and police cars came flying into the lot.
Several officers got out of the cars carrying guns, just before a large man wearing a green jacket came out of Canadian Tire holding what appeared to be a rifle and a spray can, she said.
The man sprayed something at the first officer who approached and a substance appeared to get in his eyes, she said, adding that a second officer then came after the man from behind and the two started "wrestling" on the ground.
"Then you hear shots go off, bang, bang, bang," Mitchell said. "The guy is just dead on the ground there, not moving."
"We don't know who he is."
Mitchell said about 15 police cars responded as well as several ambulances and fire trucks.
"It's kind of scary,'' she said. "Especially living in this area, that something like this can happen so close to home. It's lucky that more people didn't get hurt in this horrible situation."
Chief Adam Palmer has visited the officer and his wife in hospital to offer support, said Montague.
Montague didn't have any information about the suspect.
"We don't know who he is," he said.
Store searched
He said police were following up unconfirmed reports of a second suspect. Officers entered the store to search for other suspects or victims but found none.
Montague said the police department has counselling support for officers who are injured on the job. In his two decades as a police officer, he said he has been stabbed and shot at.
"It's an unfortunate reality of our job."
Also on HuffPost
Vancouver Police Cold Cases