OTTAWA — Canada's defence minister says troops are headed to Africa for three years of dangerous peacekeeping missions, but his spokeswoman says cabinet hasn't made a decision yet.
Harjit Sajjan told The Toronto Star that Canada has "committed" to a three-year deployment in Africa that will be re-assessed each year to ensure it has an enduring impact.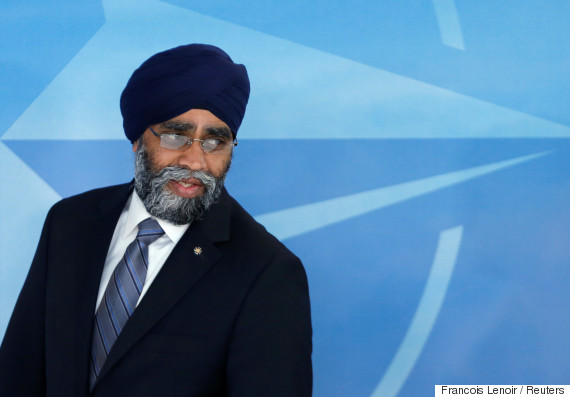 Defence Minister Harjit Sajjan in Brussels on June 14, 2016. (Photo: Francois Lenoir /Reuters)
Without specifying which countries Canadian forces and police are headed to, Sajjan said their UN missions would be focused on training, increasing local capacity, and the reduction of de-radicalization, the newspaper reported.
"These missions, all of them, have the level of risk where peacekeepers have been hurt, they have been killed. And we've been looking at the risk factor in a very serious way," Sajjan told The Star in an interview published Friday.
However, Sajjan's press secretary, Jordan Owens, told The Huffington Post Canada that the minister "got a little bit ahead of where we are as a government.
"Three years is part of the suite of options that will be considered, but this hasn't gone to Cabinet yet for a decision," she wrote in an email.
Up to 600 troops, 150 police officers to be deployed
In August, the Liberal government announced it will send up to 600 Canadian forces and 150 police to serve in UN missions but it did not specify where they would go. The government said it intends to take a whole-of-government approach and pledged an additional $450 million to the effort.
Last week, Sajjan told a gathering of Ottawa high school students that the new missions in Africa would focus on "root causes of conflict" with a special emphasis on young people.
"In Africa right now, 50 to 60 per cent of the population in most of the countries are 24 years [old] and less. Instead of them being radicalized and going into other groups, why don't we use them as an empowerment, and our approach potentially can do that," he said.
Prime Minister Justin Trudeau has also said Canada would be looking at ways to contribute that will be more "than just stopping people from shooting at each other."
&nbsp
Canada's layered approach will consider different ways instability is created and perpetuated, and how to create the conditions for longer term stability and security, Trudeau said last Thursday.
Several cabinet ministers have recently travelled to Africa. International Development Minister Marie-Claude Bibeau went to Senegal, Mali and Burkina Faso in August and September. Foreign Affairs Minister Stéphane Dion just returned from travels to Nigeria, Kenya, and Ethiopia this week.
Sajjan has been to the Democratic Republic of Congo, Uganda, Kenya, Tanzania and Ethiopia and last week travelled to Senegal and Mali.
Mali is the deadliest active peacekeeping operation in the world. This year alone, 32 peacekeepers have died.
'Robust' rules of engagement
The defence minister cautioned The Star not to read too much into where he has travelled, saying he has also studied Canada's possible involvement in the Central African Republic, Darfur, and South Sudan.
Sajjan told the newspaper there are ways to "mitigate" the risks of the missions by ensuring that "we put the right type of troops, the right equipment with the right mandate for that mission." He said he feels confident the rules of engagement for the UN missions are "robust" enough to address the risks.
The previous Conservative government was asked to consider committing Canadian forces to Africa but it decided against sending troops to the Congo and Mali.
Trudeau told reporters last week that a decision will be made in the "coming weeks probably."
With files from Catherine Levesque
Also on HuffPost
Current MPs With Military Experience (2016)