Once again, U.S.first lady Michelle Obama saves us from the dumpster fire that is 2016 with her latest and most thought-provoking Vogue cover.
Vogue's December issue pays tribute to her upcoming departure, where the self-proclaimed "mom in chief" graces the pages as both enchanting cover star and a powerfully sincere profile subject. It's a lengthy piece, which you should settle in to read with Fifth Harmony's BO$$ playing and a veggie pizza, as FLOTUS herself probably would.
In a white flowing dress by Venezuelan designer Carolina Herrera, FLOTUS's reclining figure is surrounded by vibrant greenery and a patch of bursting young sunflowers. It's an appropriate backdrop, considering her green thumb and love for the White House garden. However, gardening isn't her only passion.
Her advocacy work for children's health and educational campaigning were hailed in her Vogue profile, where FLOTUS remarks on how liberating the lack of expectations were for her.
"I could have spent eight years doing anything, and at some level, it would have been fine. I could have focused on flowers. I could have focused on decor. I could have focused on entertainment. Because any first lady, rightfully, gets to define her role," she told Vogue. "There's no legislative authority; you're not elected. And that's a wonderful gift of freedom."
Obama's social accomplishments throughout the years are only rivaled by her adventurous style. This is the woman who gave us a Gucci map dress on Ellen Degeneres, after all.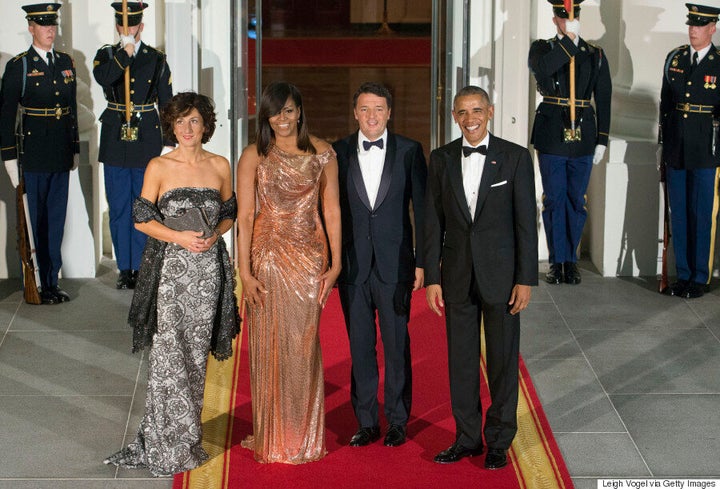 Agnese Landini, First Lady Michelle Obama, Italian Prime Minister Matteo Renzi and President Barack Obama enter the White House for the State Dinner on Oct. 18, 2016 in Washington, DC.
Although, FLOTUS wouldn't exactly call her clothing choices brave.
"It all boils down to comfort level: If I'm going to make you comfortable, then I have to be comfortable first," she says.
This marks Michelle's third Vogue cover appearance. FLOTUS was on Vogue's 2009 issue, shortly after her husband was inducted into office. Her second time gracing the front page was an April 2013 issue.
Although she spoke to Vogue in September, Obama's candid observations on what it takes to be FLOTUS foreshadows expectations for president-elect Donald Trump's wife, Melania.
Trump's wife has given two different answers on what kind of first lady she would be.
Speaking in 1999, the Washington Post reports that Trump said she "would be very traditional like Betty Ford or Jackie Kennedy." In a more recent CNN interview, however, she's changed her mind.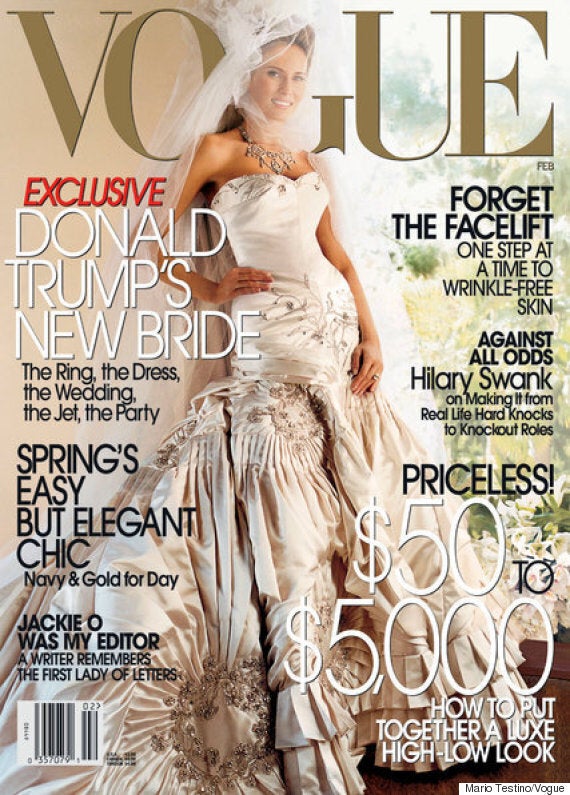 Melania Trump on the February cover of Vogue Magazine in 2005. (Photo by Vogue/Mario Testino)
Trump was a Vogue cover star in 2005, flaunting her $100,000 Christian Dior wedding dress.
However, Hillary Clinton has both Michelle and Melania beat. She was the first FLOTUS to be on a Vogue cover, ever, appearing on the December 1998 issue. (Fun fact: Lou Hoover was the first FLOTUS in Vogue's pages, back in 1929.)
FLOTUS isn't leaving the White House yet, but everyone misses her already. Some are even suggesting she should run for president in 2020.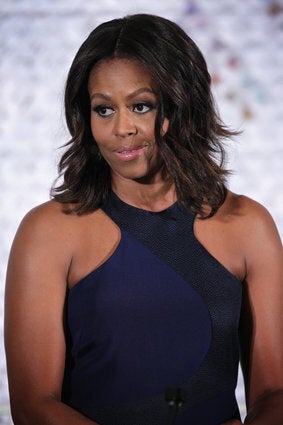 Michelle Obama Springtime Style