Most Canadians are stunned and upset by the election of Donald Trump to the American presidency, and believe Canada-U.S. relations will suffer as a result, a new poll suggests.
The Angus Reid Institute released numbers Friday showing that nearly two-thirds of Canadians are unhappy with the U.S. election results, with 45 per cent of respondents saying they are "very upset."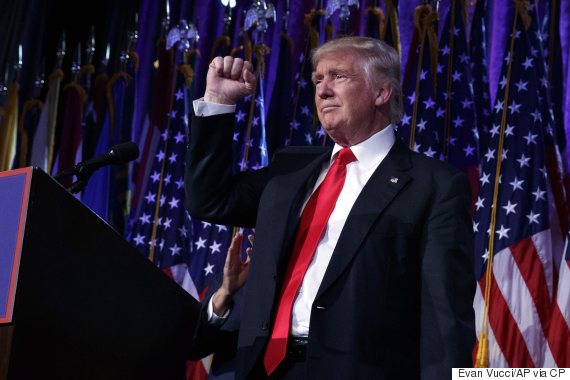 President-elect Donald Trump pumps his fist during an election night rally on Nov. 9, 2016 in New York. (Photo: Evan Vucci/AP via CP)
Just 18 per cent responded that they were "somewhat" or "very pleased" to see Trump win.
Sixty-nine per cent of Canadians told the firm they agreed with the statement: "I'm shocked that Trump won."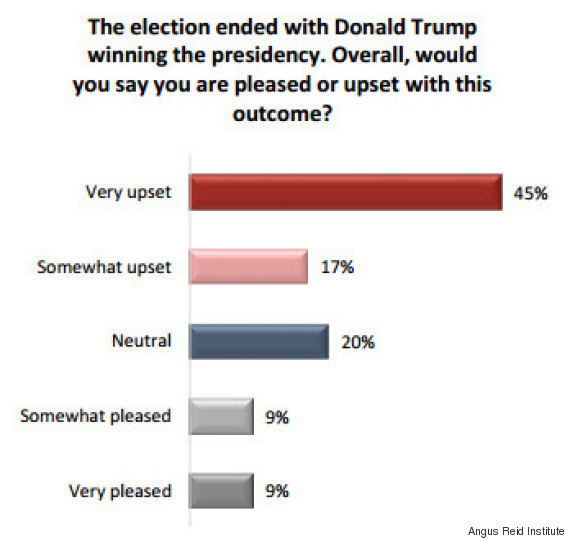 The poll suggests women are more likely than men to disagree with the choice Americans made. Seventy-one per cent of women said they were upset by Trump's win, compared to 53 per cent of men.
Trump has been accused of sexual assault by several women, has a long-track record of offensive remarks towards women, and defeated Democrat Hillary Clinton, the first woman nominated for president by a major U.S. party.
When asked if sexism in society was a "significant reason" Clinton lost, a narrow majority — 52 per cent — said they agreed.
Women were 11 percentage points more likely than men to share that opinion — 57 per cent compared to 46 per cent.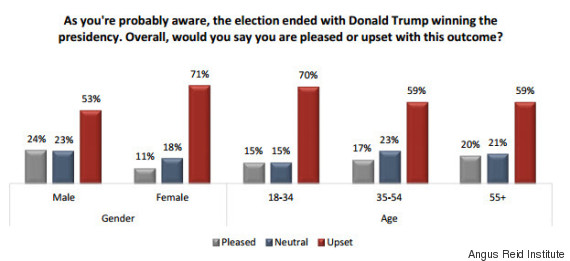 Seventy per cent of Canadians between the ages of 18-34 told the firm they were upset by the results.
Canadians who voted for the Liberals and New Democrats in the last election are overwhelmingly distressed by the results, while opinion appears to be more mixed for Conservatives.
While 75 per cent of Liberal voters and 78 per cent of NDP voters are upset about president-elect Trump, 39 per cent of Tory supporters are "pleased." Another 36 per cent of Conservative supporters are upset, while 25 per cent are neutral.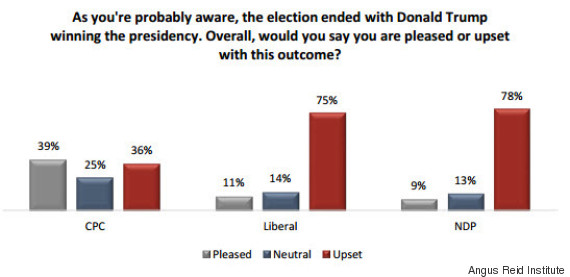 The numbers suggest there could be some appetite in the party for the message of Tory leadership contender Kellie Leitch, who courted controversy Wednesday by saying Americans "threw out the elites" by electing Trump and sent "an exciting message" that needs to be "delivered in Canada as well."
Leitch — a pediatric surgeon and former cabinet minister — has made bashing "elites" a key part of her campaign.
Leitch followed up by mentioning Trump several times at the first Tory leadership debate Wednesday night. She also said she agreed with him on the need to screen immigrants.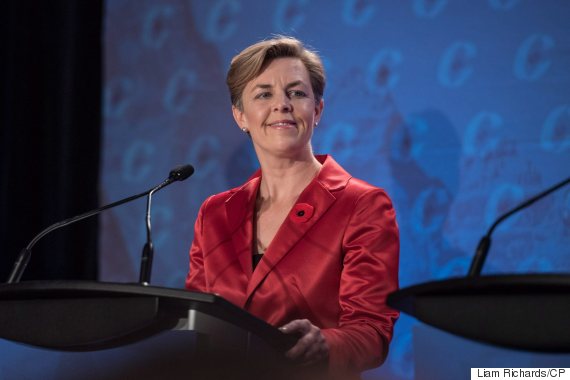 Conservative leadership candidate Kellie Leitch speaks during the Tory eadership debate in Saskatoon on Nov. 9, 2016. (Photo: Liam Richards/CP)
However, Trump supports the Keystone XL pipeline long advocated by the previous Tory government. Prime Minister Justin Trudeau is also in favour of Keystone and is already facing pressure from Tories to push Trump to make approval of the project a priority.
Though Trudeau has pledged to work with Trump — and even to discuss the North American Free Trade Agreement — most Canadians are pessimistic about the future relationship between the U.S. and Canada.
Fifty-two per of respondents said a Trump presidency will have a negative impact on relations between the two nations, while 57 per cent said it would hurt trade.
Two-thirds of Canadians told the firm that four years of President Trump will have a negative impact on America's standing in the world.
The online poll was conducted between Nov. 9-10 among a representative, randomized sample of 1,515 Canadians who are part of the Angus Reid Forum. The firm says that, for comparison purposes, a "probability sample of this size" would have a margin of error of 2.5 percentage points, 19 times out of 20.
Also on HuffPost
Donald Trump Win Sparks Protests Nationwide