Donald Trump's election to presidency has sparked protests across the United States, and even in Canada, people have been moved to show their support. In one case, through art.
Torontonians have been adding post-it notes to the wall of a downtown subway station in solidarity with U.S. citizens who are unhappy with Trump's election.
@mishacollins from Dundas Station in Toronto. Don't give up. Stay strong. LOVE ALWAYS TRUMPS HATE. #Toronto #RandomActsOfKindness pic.twitter.com/vkDw5E6qX8

— Stefania (@WaywardMermaid6) November 11, 2016
A few dozen sticky notes were added to the wall with messages ranging from "Love will always trump hate. Period." and "We're in this together" to "Trump is racist" and "Let's not be passive, take action."
The messages were soon taken down, but photos and video of the display still circulated on social media.
The community protest piece is similar to one started in New York City after Trump's election.
Matthew "Levee" Chavez, runs "Subway Therapy," a no frills, below ground therapy service. For the last six months, he's set up a table and some chairs in a subway tunnel, and made himself available for anyone who wants to chat.
Following the election, Chavez set up his station as usual, but added some markers and post it notes to the table.
He figured it would give people the chance to write their thoughts and share them by sticking them to the tile, Upworthy reports.
Now, hundreds of notes have been added to the art project with statements such as: "Have a voice", "Your hijab is beautiful" and "We will be okay."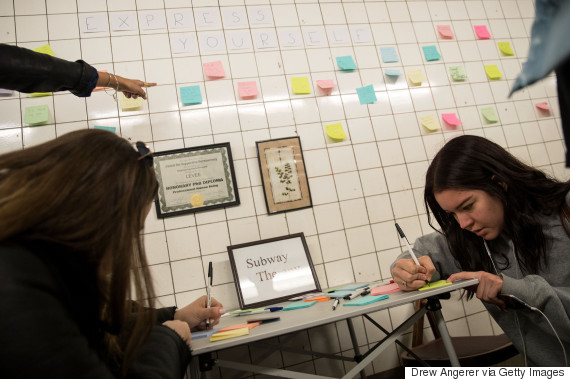 Alma Berti (R) writes a message on a post-it note as part of a public art project entitled 'Subway Therapy' at the 6th Avenue subway station in New York. (Photo: Drew Angerer/Getty)
"Because of how stressful the last couple of days were, I thought it would be nice to have something that people could do really quickly so they could maybe get something off their chest," Chavez tells ABC 7.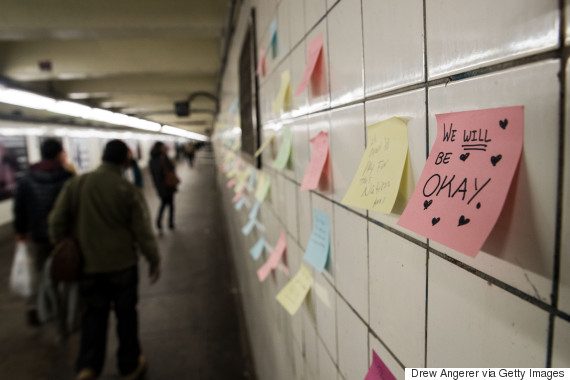 Post-it notes, many with politically themed messages, hang on a wall at the 6th Avenue subway station as part of a public art project entitled 'Subway Therapy.' (Photo: Drew Angerer/Getty)
Also on HuffPost