As the holiday season quickly approaches and we start gearing up for baking, cooking, shopping, wrapping, eating, party going, decorating, letter writing (phew!), let's take a moment to pause on Justin Trudeau's very first Christmas card ever.
Christmas Day is a special one in the Trudeau household as it's also the prime minister's birthday (and the birthday of his younger brother Sacha).
Official prime ministerial holiday cards generally feature, well, the prime minister. But not this beauty from 1972. Nope, Trudeau's mom, Margaret, decided to break protocol and use this adorable photo of her oldest son instead of a family shot.
"He was a sunny, sunny little happy boy," Margaret told the CBC of her first born. And this photo definitely captures that personality. (We especially love that he's missing a shoe in typical baby fashion.)
Trudeau's parents were married for 13 years, from 1971 until 1984. Their divorce was finalized during Pierre's second term as prime minister. This led to more holiday cards that went against the norm: featuring a single dad and his three sons.
Now a dad of three himself, Trudeau's first holiday card as our country's leader in 2015 kept the tradition of featuring family. We can't wait to see what this year's card holds.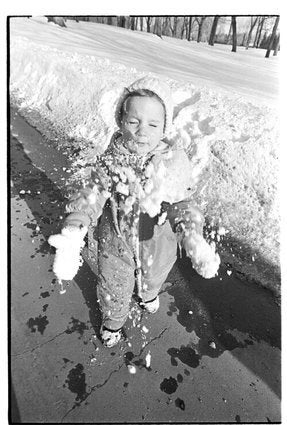 Photos Of Justin Trudeau Playing In Snow In 1974 Are Just So Canadian