MARRAKECH, Morocco — The momentum behind the movement for global reductions in greenhouse gas emissions is "irresistible" despite the recent election of Donald Trump, Canada's environment minister said Tuesday.
Speaking at the UN climate change conference in Morocco, Catherine McKenna tried to minimize the effects of the U.S. election result on the international fight against global warming.
"In terms of climate change ... there's an irresistible force now,'' McKenna told a news conference in Marrakech. "There's no going back. You can't stop the waves from hitting the beach. And what you're seeing is, it's because the market forces recognize the huge opportunity."
Trump's victory last week dampened spirits going into the Morocco conference as the president-elect has come out publicly as a skeptic of man-made climate change.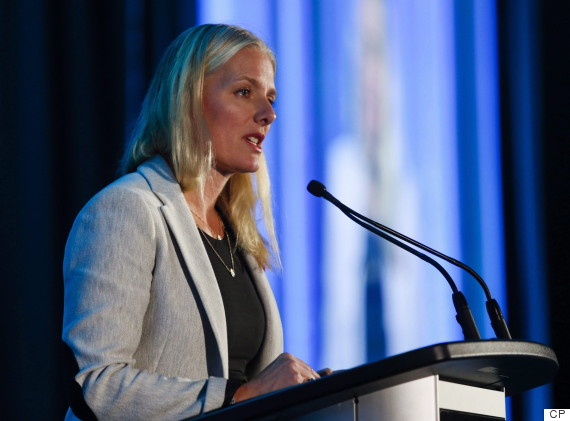 Catherine McKenna speaks at the CanWEA conference in Calgary, Nov. 2. (Photo: Jeff McIntosh/The Canadian Press)
Trump also said he wanted to pull the United States out of the Paris Agreement, which is a deal ratified by more than 100 countries to limit the average global temperature increase by a maximum of two degrees Celsius by 2050.
McKenna said that despite Trump's election win, the movement to reduce emissions has reached a "point of no return."
The minister wouldn't say, however, how she would try to persuade the incoming American government to stay inside the Paris agreement.
"We have a great relationship with the United States," she said.
"That's really important to us and I think it's important to Americans. And we're going to continue there. And I think there are a lot of opportunities to continue going forward when it comes to the environment, when it comes to the economic opportunities that are presented."
"We have a great relationship with the United States."
French President Francois Hollande was firmer than McKenna with regard to Trump.
"The U.S. has the largest economy in the world,'' he said during an afternoon plenary session at the conference.
"And it's the second-largest emitter of greenhouse gases. It must respect the promises it made. It's not just their duty, but it's in the interest of the American people, who are also being hit by the changing climate. No one is safe."
Also on HuffPost