Rihanna is turning heads and raising eyebrows over her most recent nude photo. This wasn't in a magazine, though. It's on her Instagram feed -- and she's with her adorable niece, Majesty.
The photo of the proud auntie has garnered much love and 1.7 million likes from her fans. However, others are chastising the singer for being in the buff with the young girl.
"Nope, nope and nope. This isn't her child," wrote one Instagram user. "If this was a man you would have something different to say."
Another commented: "My thing is y is she naked as well regardless if its her niece or not this is just a strange picture."
Is it so wrong for families to be naked in front of each other? Experts have varying opinions.
Dr. Stephanie Mihalas, a child psychologist in California, told AllParenting.com that this is "a difficult question to answer for two reasons: 1. There has been very little research done on this subject, and 2. The appropriateness of parental nudity and parent-child bathing behaviours will vary significantly across different cultures and families."
Dr. Benna Strober suggests taking cues from the child. If they seem uncomfortable with nudity, then maybe it's time to cover up. In an interview with AllParenting.com, she said: "Children of this age are starting to explore taking care of their own body and might start requesting their own bath/shower. While you should let your child determine when they are ready for the privacy, it should not be up to them if you feel the time is right earlier than they do."
In an interview with The Globe and Mail, Toronto writer Aviva Rubin explained why she has no issue with being naked in front of her kids: "What I would say is there's something about that comfort level and ease. It is quite purely familial. It's the familiarity, that feeling of – I hate to use the word 'intimacy' because I know that would get conflated with sexuality – but how much you know each other and that innocent comfort and that lack of self-consciousness."
There's no question from the "controversial" photo that Majesty and Rihanna share a special bond. In fact, the singer's Instagram is filled with candid shots of the duo.
Of course, some people also commented on the fact that Rihanna is kissing her niece on the lips in the picture. Just this past summer, Victoria Beckham got in hot water over this, too.
In a tribute to her daughter, Harper, on her birthday, the former Spice Girl is seen kissing the little girl on the lips. And people were quick to criticize.
Just like Rihanna's fans, the internet came to the famous mom's defence by starting the hashtag #kissyourkids and posting photos of kissing their kids on the lips.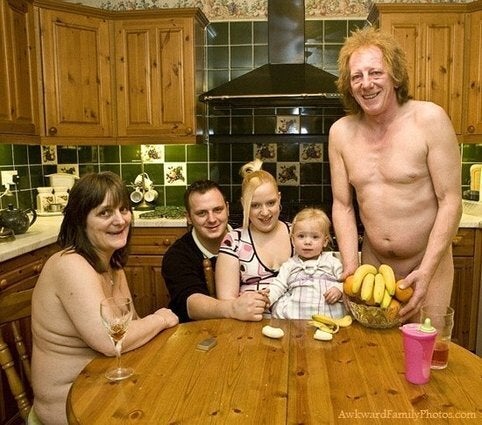 Why Are These Families Naked?