Canada's young scientists aren't satisfied with the way the federal government reviews energy projects, saying the current process lacks high scientific standards.
An open letter addressed to Prime Minister Justin Trudeau on Tuesday urged him to make a more concerted effort in rebuilding public trust in the environmental assessment process.
"We are concerned that current environmental assessments and regulatory decision-making processes lack scientific rigour, with significant consequences for the health and environment of all Canadians."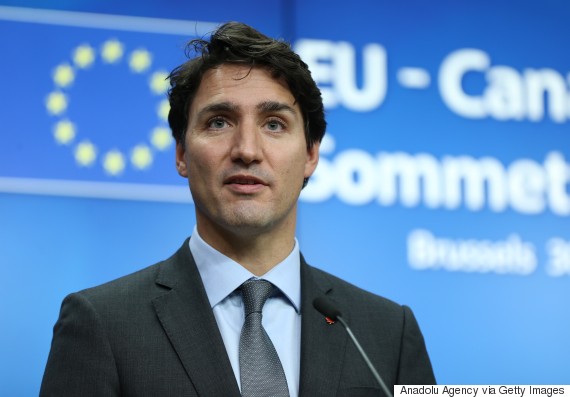 Prime Minister Justin Trudeau speaks to reporters at the EU-Canada summit, in Brussels, Belgium on Oct. 30. (Photo: Dursun Aydemir/Anadolu Agency/Getty Images)
More than 1,300 researchers signed the letter urging Trudeau and six of his cabinet ministers to improve the current environmental assessment and regulatory processes in which all natural resource project proposals must undergo.
"Hundreds of scholars have decried weak Canadian environmental assessments and regulatory reviews and cautioned about the risks involved in large-scale energy projects," reads the letter.
"We are concerned that current environmental assessments and regulatory decision-making processes lack scientific rigour."
It referenced incidents such as the Calgary floods of 2013 and B.C.'s Mount Polley mine spill as examples of "environmental and health tragedies" that followed inadequate reviews.
One of the actions the letter suggests the government to adopt is the release of a full, public disclosure of how science, facts, and evidence provided in the review process are actually weighed in final decisions.
It's this fifth recommendation that open letter co-author Aerin Jacob, a postdoctoral fellow at the University of Victoria, stresses is crucial to "peeling back the curtain on how these major decisions are made."
Acknowledging how additional factors — such as indigenous knowledge — also play an important role, Jacob says full-disclosure releases of decisions behind major projects will give them more legitimacy.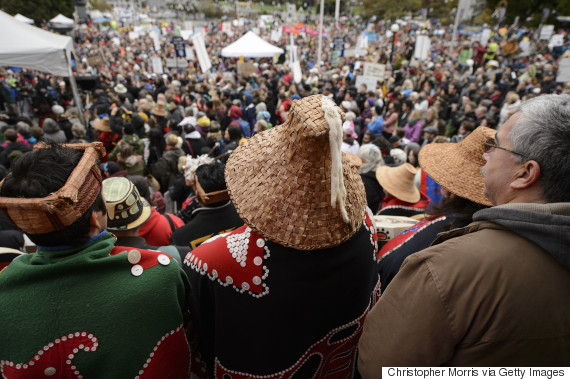 Protestors demonstrating against the Northern Gateway pipeline project outside the British Columbia Legislature building in Victoria on Oct. 22, 2012. (Photo: Christopher Morris/Corbis via Getty Images)
"Right now it's kind of a black box and we want to see how the decisions were made and what role science plays into that," she told The Huffington Post Canada.
As of Tuesday afternoon, Jacob said she has not heard from the Liberal government.
The Prime Minister's Office did not respond to a request for comment about the open letter.
In January, the Liberal government launched a review of the country's environmental laws to reverse changes made by the former Conservative government and "rebuild trust" in the assessment process.
Scholars 'deeply concerned'
More than 200 scholars urged the prime minister back in May to suspend construction of the contentious Site C hydroelectric dam in northern British Columbia.
Royal Society of Canada president Maryse Lassonde told Trudeau her group is "deeply concerned" about major gaps and inadequacies in the environmental assessment and regulatory review process the Site C Project proposal underwent.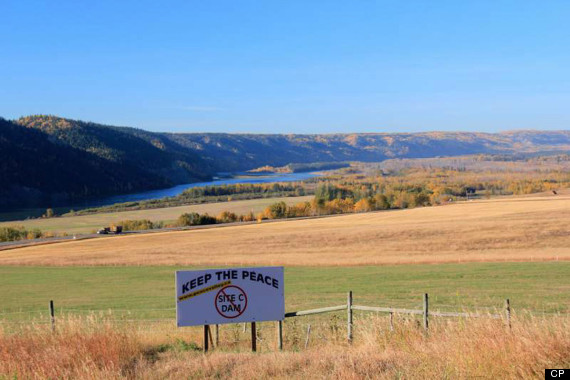 A protest sign against the in B.C.'s Peace River against the Site C Project. (Photo: The Canadian Press)
"Past projects often neglected or ignored Aboriginal peoples and their concerns–with adverse and lingering consequences. Those days are supposed to be over," wrote Lassonde at the time.
The $9-billion dam project proposed to flood farmland in traditional First Nations territory to create an 83-kilometre reservoir.
Despite protests and outcry from scientists, the indigenous community and its supporters, the project was quietly approved by the federal government in the summer.
Also on HuffPost
Photo gallery
Drone Images Highlight Climate Change
See Gallery