Canadians are so scared of having to look for a job that they're staying in lower-paying ones for longer.
And they should be worried. It's taking longer for them to exit unemployment now than it did during the financial crisis, says a CIBC report released Tuesday.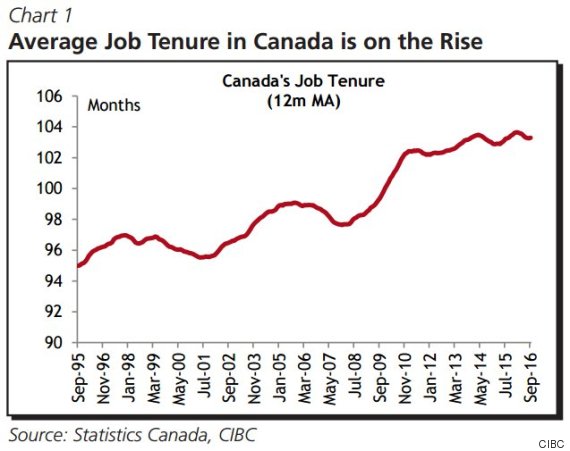 The report, by Benjamin Tal and Sahika Kaya, responded to recent comments by Finance Minister Bill Morneau, when he said that young Canadians should become used to hopping from job to job.
CIBC, however, claims that this trend is "actually fiction."
It noted that average job tenure in Canada has grown from 98 months to 103 months in the last 10 years, and that the share of workers who have stayed with the same employer for over five years is now reaching a record-high of 50 per cent.
Fear factor
There are different explanations for why lower- and higher-paid workers are staying in the same place for longer.
Job tenure among lower-wage workers has grown faster than that of higher-paid employees, and one of the big motivators for staying put is the "fear of being replaced."
That fear has some foundation when you look at how long people are spending unemployed, the report said.
"The duration of unemployment in Canada rose notably during the recession and stayed high during the recovery," it said.
"The probability of exiting unemployment after being unemployed for six months is now lower than it was before the recession."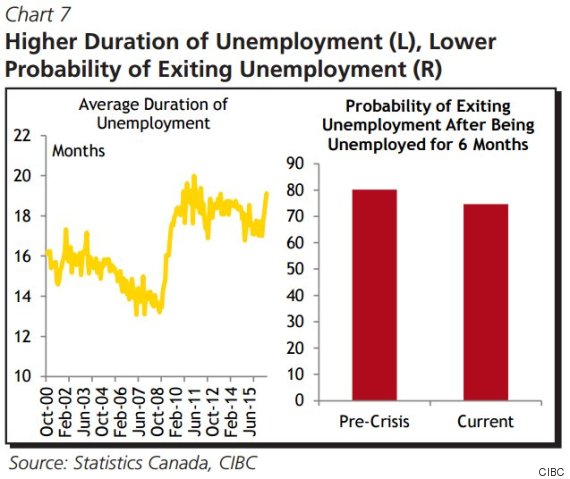 High-wage workers are a different story, however. The reason they're staying put is that employers are working harder to keep them, the report said.
"To the extent that specific talent is in short supply, firms will do whatever it takes to prevent their high-skilled labour from leaving," Tal and Kaya wrote.
It's therefore no surprise that incomes among high-wage employees are rising faster than among low-wage workers.
"Firms will do whatever it takes to prevent their high-skilled labour from leaving."
CIBC's report undoubtedly shows evidence that people are staying in jobs longer than Morneau suggested.
But other data shows that temporary work is on the rise across Canada.
In 1997, workers aged 15 to 24 made up only 23.6 per cent of total employment. Today, it's 28.9 per cent.
Over the past year, Canada added 124,000 part-time jobs but only 15,500 full-time ones.
Also on HuffPost
Top 10 Jobs Canadian Employers Can't Fill (2015)