Lululemon, you and your customers need to talk.
Because frankly, things just aren't going well between you two right now. Especially women.
See, the outlook for your stock price has been downgraded from US$76 per share to $53 per share. Much of that decline has to do with the trouble you're having selling women's tops, according to Swiss firm Credit Suisse.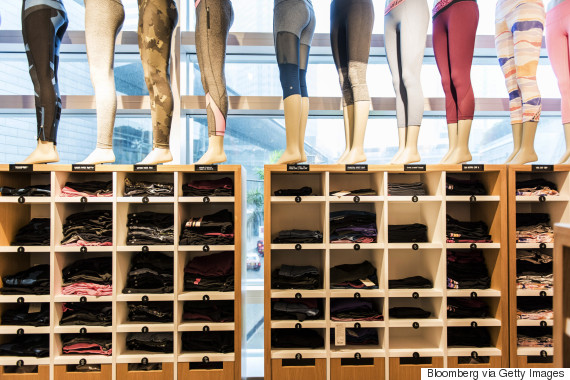 Athletic apparel sits on display inside a Lululemon Athletica Inc. store at the International Finance Centre mall in Hong Kong, China, on June 22, 2015. (Photo: Bloomberg/Getty Images)
The price for shirts is down by 28 per cent from June. The average price went from $73 then to $57 last month, said a note from the firm released Thursday.
Prices are also being marked down a lot faster than the company is used to. The markdown intensity rate for women's tops was two per cent in the third quarter, up from 1.7 per cent in the second.
The percentage of women's tops being sold at lower prices also climbed from seven per cent in August to 16 per cent in October.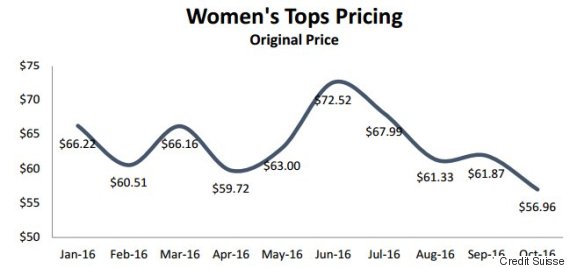 The lower pricing suggests that "Lululemon product is not resonating with customers," the note said.
Only eight to 10 per cent of Lululemon's total stock keeping units are usually on sale, and that means "elevated levels of discounting could be occurring this quarter," it added.
Lululemon's stock is being downgraded amid news that the company might take its head office out of Vancouver over federal rules surrounding temporary foreign workers.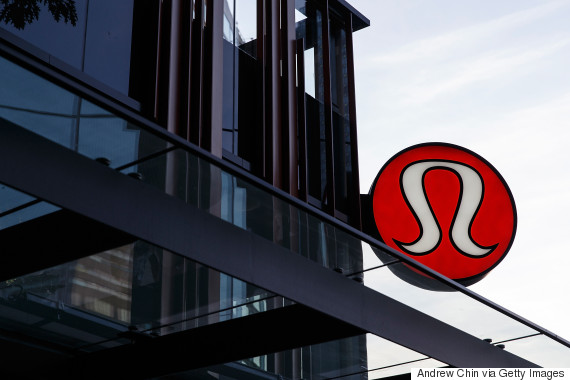 A general atmosphere view of the Lululemon Athletica flagship store opening party at 970 Robson Street on Aug. 19, 2014 in Vancouver. (Photo: Andrew Chin/Getty Images)
In a submission to the House of Commons finance committee, the company said it needs to recruit global talent and therefore needs an exemption from rules that require them to prove they can't find adequate workers in Canada.
"Canada simply does not produce enough skilled, specialized workers to meet our demand," the letter said.
Also on HuffPost
Lululemon Vancouver Flagship Store