Tesla officially became an energy company this week after shareholders voted in favour of the automaker acquiring Solar City.
But CEO Elon Musk wasn't done just yet with the big announcements.
Musk said that the brand's new solar roof product will somehow cost less than a traditional shingled roof — and that's even before factoring in the energy savings.
"So the basic proposition will be: Would you like a roof that looks better than a normal roof, lasts twice as long, costs less and—by the way—generates electricity?" Musk told shareholders, according to Bloomberg.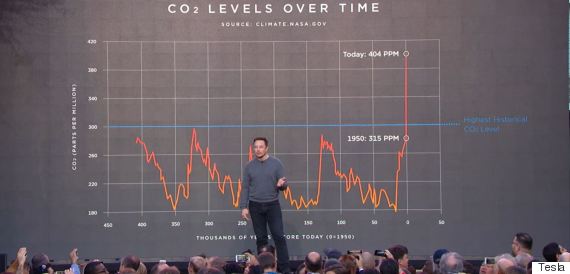 Tesla CEO Elon Musk announces the company's new solar roof product on Oct. 28, 2016. (Photo: Tesla)
The U.S. company's CEO claimed that it would all work because the supply chain for roofing is "incredibly inefficient," Electrek reported.
Musk added that because the solar tiles are so light and durable, they will be cheaper to ship than traditional tiles and last longer.
If Musk's claim is true, it'll be big news for the solar industry.
Right now, it costs tens-of-thousands of dollars to equip a home with solar panels, which takes decades for most homeowners to pay off.
If they could be priced to compete with higher-end options like slate, solar roofs could become a very attractive option for homeowners. Bloomberg noted that the expensive roofing materials the solar tiles mimic can costs as much as 20 times more than asphalt shingles.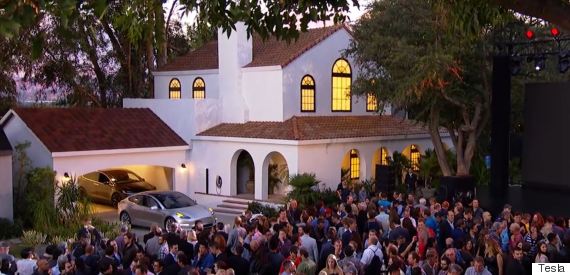 Tesla demonstrates a Tuscan Glass Tile solar roof at the product's launch in late October. (Photo: Tesla)
The solar roof was introduced in late October. So far, the company has announced four styles of tile when the product launches next year: Tuscan Glass, Slate Glass, Textured Glass and Smooth Glass.
The tiles will be indistinguishable from a normal roof — you can even walk on them — and they'll be able to melt snow with captured heat.
Fortune reported that the shingles would feature a solar film by 3M and the solar tech would be built by Panasonic.
Follow The Huffington Post Canada on Facebook, Twitter, and Instagram.
Also on HuffPost