Let's take this last long look at The Bromance.
Prime Minister Justin Trudeau and U.S. President Barack Obama attended the Asia-Pacific Economic Cooperation leaders' summit this weekend. The conference in Peru was dominated by talk about global trade in the wake of the upcoming Presidency of Donald Trump.
The two leaders met in person and Trudeau tweeted a picture of himself and Obama.
It's been a great pleasure to work with @POTUS - thank you Barack, for working to renew & strengthen the bonds between our countries," the Prime Minister tweeted.
The quick bond between the two leaders was apparent from the start. Obama got a rousing ovation of "four more years" when he addressed Canada's Parliament in June. "The world needs more Canada, NATO needs more Canada. We need you," Obama said at the time.
On Sunday Obama said Trudeau had a "common vision and talent."
"Looking forward to his continued leadership in the years to come," Obama said, adding that he plans to visit Canada as a private citizen and may "stop in" to see Trudeau and his "beautiful family."
"Looking forward to his continued leadership in the years to come."
Obama said no matter what governments were in power, the relationship between the two countries was "one of the most important constants in the world."
Trudeau said he'll "miss having Barack around" but said he'd hope Trump would visit Canada after the inauguration.
On Obama post Presidency, Trudeau said the former president would be a "valuable and important voice on the world stage."
Obama will hand over the office to Trump in January.
For now, we can say goodbye to The Bromance.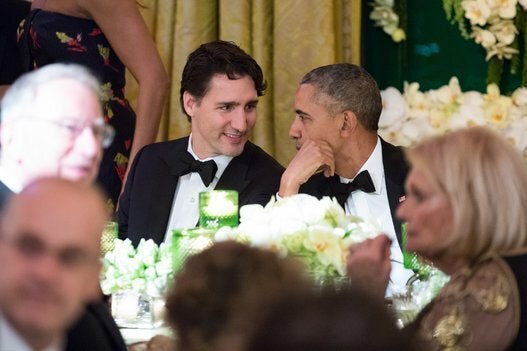 Trudeau's Historic Washington Visit