TORONTO —The Human Rights Tribunal of Ontario has begun hearing the case of a man who alleges the indigenous names and symbols used by some Mississauga, Ont., hockey teams demonstrate institutional racism and promote stereotypes that shape how indigenous people are viewed in society.
Brad Gallant has brought a complaint against the City of Mississauga, saying it should not provide funding to teams with racially insensitive names and logos, like the Mississauga Chiefs or Lorne Park Ojibwa.
He also wants the city to remove banners featuring the teams' names and logos from municipal buildings, arguing they contribute to a harmful and discriminatory environment.
Gallant's lawyer, Jeremiah Raining Bird, says the complaint is largely about "preserving a safe environment for (Gallant's) children, an environment in which they don't feel ashamed and don't have to defend themselves against things they can't control.''
Complaint: 'Institutional racism' is responsible
Gallant's complaint says that in Ontario, there are seven teams with racially insensitive names or logos, and five of them are in Mississauga.
The complaint says "the institutional racism at the City of Mississauga is responsible'' for allowing the names to remain.
Two of the teams named in Gallant's complaint have already changed their names and logos.
The tribunal heard Monday that the Meadowvale Mohawks were renamed the Hawks and had switched to an alternate logo.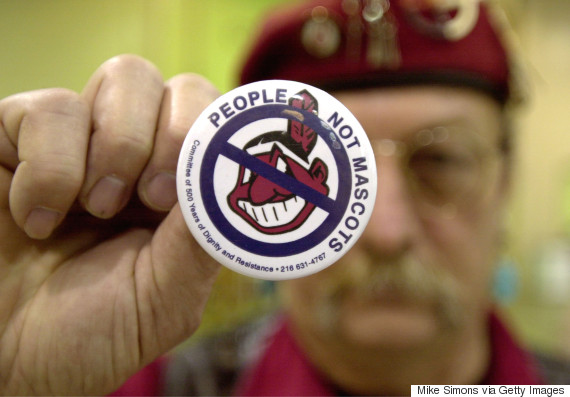 Sonny Hensley holds an anti-mascot button to protest using Indians as mascots for sports teams at the 10th Annual New Years Eve Sobriety Powwow Jan. 1, 2003 in Columbus, Ohio. (Photo: Getty Images)
Meanwhile, an executive member of the Lorne Park Clarkson Hockey Association said during a break in the proceedings that the Ojibwa team was renamed Wild and adopted a logo similar to the Minnesota Wild. Eric Landman said the club was participating in the hearing because it wishes to retain the right to use a heritage patch depicting an indigenous face and headdress on its jerseys.
A lawyer for the City of Mississauga said the teams, not the city, were responsible for choosing names and logos.
Gallant is a member of the Qualipu Mi'kmaq First Nation, and in his complaint he says his two daughters are both goalies.
"My kids can surf the Internet and see the culture mocked continuously on sports websites,'' he wrote in his complaint to the tribunal. "My children's peers can see that harassment, abuse and bullying is not tolerated against any group, so long as they arrived in North America after the 15th century.''
This isn't the first time this issue has come up in Ontario.
Just last month, a judge quashed an activist's bid to prevent the Cleveland Indians from using its team name and "Chief Wahoo'' logo when playing in Toronto.
Also on HuffPost
Indigenous Team Name Protests