As Donald Trump prepares to move into the White House, a quote from a former Canadian prime minister advocating for diversity has found renewed relevance.
Pierre Elliott Trudeau championed his immigration policy in a 1971 speech to the Ukrainian-Canadian Congress, pointing out that there's "no such thing as a model or ideal Canadian."
He warned his Winnipeg audience that the "absurd" concept of an "all-Canadian' boy or girl" is nothing more than a "disastrous" ideological pursuit.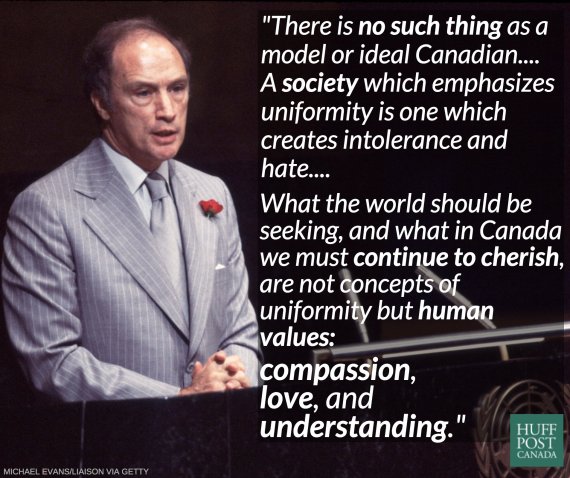 Some academics called Trudeau's progressive immigration policy one designed to both pacify the growth of Quebec nationalism and inject the country's economy with fresh ambition and business opportunities.
The senior Trudeau carried a similar theme from a 1969 speech he delivered in Washington, D.C. when he famously likened living next to the U.S. to "sleeping with an elephant."
"No matter how friendly and even-tempered is the beast, if I can call it that, one is affected by every twitch and grunt," he said.
Trudeau added: "It should not therefore be expected that this kind of nation, this Canada, should project itself as a mirror image of the United States."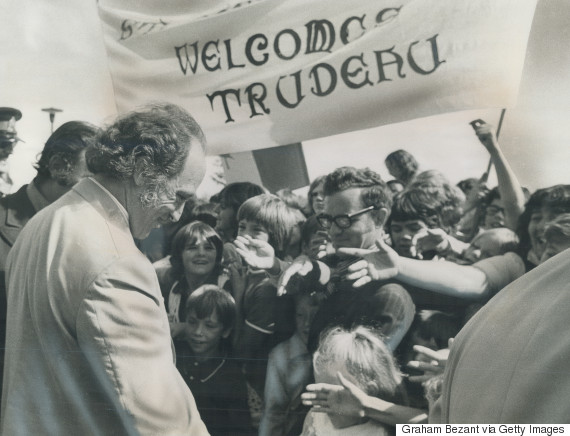 Pierre Elliott Trudeau is welcomed by crowds at Pickering District High School in 1971. (Photo: Graham Bezant/Toronto Star via Getty Images)
Columnist Stephen Marche recently wrote in The Walrus that Canada is finding itself "increasingly alone" after populist anti-immigration movements gave way to the United Kingdom's Brexit and America's election of Trump.
Marche wrote: "The irony of our situation is obvious: We are most open to the world at the exact moment the world has closed."
Also on HuffPost
Who Are Second-Gen Canadians?