A Bloc MP was scolded during question period on Monday after saying he doesn't want to be fed "more government bullshit" over the government's funding package to help Quebec cheese-makers.
"Ottawa obviously doesn't care about Quebec's specialty cheeses. Big cheddar producers are as eligible for compensation as fine speciality cheese producers," said Mirabel MP Simon Marcil.
"Will the minister improve the aid package to help cheese producers or is it just going to be more government bullshit?" Marcil asked in reference to Agriculture Minister Lawrence MacAulay.
"Ottawa obviously doesn't care about Quebec's specialty cheeses."
House Speaker Geoff Regan called on Marcil to withdraw his comment, and threatened to bar the Bloc MP from speaking "for some time."
Later, Bloc Québécois Luc Thériault rose on a point of order to asked the Speaker if he made note of Marcil's withdrawn "bullshit" comment. Regan replied, "no."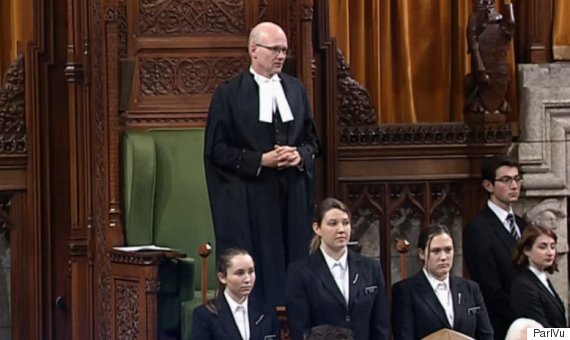 House Speaker Geoff Regan responds to Simon Marcil's use of unparliamentary language. (Photo: Parlvu)
"Because when I asked him to withdraw that remark he shook his head. If he does with to withdraw his remarks, I will give him the floor, give him the opportunity to do so," he said.
Marcil stood and said: "Now that everyone knows what I think, I withdraw my remark." An unimpressed Speaker listened.
"That is not the ideal way of retract," Regan said.
Watch Regan's reaction here:
Earlier this month, Ottawa announced it will provide $250 million in funding to help upgrade dairy producers' equipment and also $100 million to help cheese-markers modernize their operations.
Quebec's premier scoffed at the promise, and demanded the federal government sweeten its compensation package to the province's dairy producers — whose businesses are expected to be affected by the Canada-EU free trade agreement.
'Bullshit' banned since the '70s
Last week, Conservative MP Michelle Rempel caused a stink in the House after she likened Ottawa's treatment of Alberta to "a fart in the room that nobody wants to talk or acknowledge."
Rempel refused to withdraw her comment after Green Party Leader Elizabeth May called her word choice "distinctly unparliamentary."
The word "bullshit" was added to the list of words and phrases deemed unparliamentary in 1973.
With files from Althia Raj
Also on HuffPost
2015 Canadian Cheese Grand Prix Finalists