Gigi Hadid has released a handwritten statement apologizing to anyone she offended with her impersonation of Melania Trump.
The 21-year-old supermodel co-hosted the 2016 American Music Awards on Sunday evening, and during the opening monologue she parodied the future First Lady, mocking Melania's reportedly plagiarized Michelle Obama speech with a fake Slovenian accent.
Gigi Hadid doing an impression of Melania Trump while hosting the American Music Awards. #AMAs pic.twitter.com/kN1e5RbmQt

— Shady Music Facts (@TheFactsOfShade) November 21, 2016
Some viewers didn't find the model's political impersonation funny, calling Gigi a "bully" and a "racist."
I never want to hear @GiGiHadid stand up for people being bullied. YOU ARE A BULLY!!! Disrespectful, and should be ashamed of yourself!

— Veronica Alanis (@veronicamalanis) November 21, 2016
"Gigi Hadid Does a Melania Impression at the #AMAs"
Hey, isn't it "racist" to make fun of an immigrant's accent?https://t.co/pq68tkC891

— Larry Elder (@larryelder) November 21, 2016
The Tommy Hilfiger designer took to Twitter the next day to defend her actions.
"I was honoured to host the AMAs last night and to work with some of the most respected writers in the business," Hadid wrote in the statement. "I removed or changed anything in the script that I felt took the joke too far, and whether or not you choose to see it, what remained was done in good humour and with no bad intent."
November 22, 2016
"I too have been the centre of a nationally televised comedy skit that poked fun at my actions, and was able to find the humour in it," the model continued. "I believe Melania understands show business and the way shows are written and run. I apologize to anyone that I offended and have only the best wishes for our country. Respectfully, G."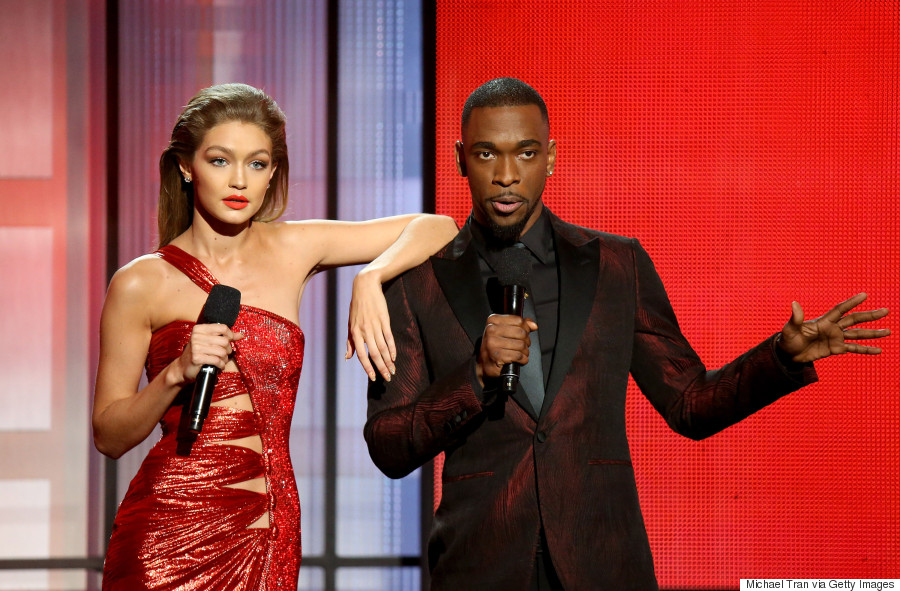 Hadid's co-host for the evening, "Saturday Night Live" alum Jay Pharoah, also addressed the impersonation in a Facebook post Monday evening.
"Everybody pump the brakes one damn minute! Over the last 8 years the beautiful Michelle Obama has been the victim of excessive slurring! The Beautiful Flotus has been called Ape, Gorilla, Monkey, Manish, Ugly, Disgusting, 'Not fit to be in the whitehouse,' always physically attacked by the general populous, nobody really snaps about it!"
"[Sic throughout] Flotus has always been on point with the wordplay in her speeches. At the AMA'S we exaggerated a SPEECH THAT ACTUALLY HAPPENED, where Melania CLEARLY PLAGIARIZED(cause that was the joke) didn't call her ugly, manish, or anything, and everybody LOSES IT?! Really? GTFOH."
For all the looks from the 2016 AMA red carpet, check out the slideshow below:
Follow Huffington Post Canada Style on Pinterest, Facebook and Twitter!