OTTAWA — Canadian taxpayers spent nearly $27 million on external public relations contracts for federal government departments, agencies and Crown corporations over the past year, an analysis by The Huffington Post Québec suggests.
The largest single contract — $586,375 — was awarded by Les Ponts Jacques Cartier Champlain Inc., to the PR firm Casacom in July, 2015, for a four-year duration.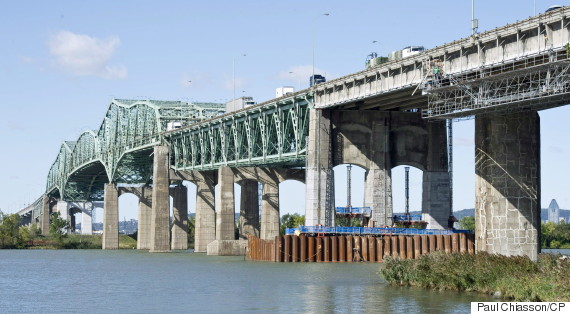 Champlain Bridge is shown in Montreal on Oct. 5, 2011. (Photo: Paul Chiasson/CP)
The Crown corporation, which manages the bridges of Greater Montreal, said the contract covered $60,900 to rebuild a website as well as crisis management to deal with such instances as the installation and removal five months later of a "super beam" on the Champlain Bridge which caused traffic headaches.
In total, departments, agencies and Crown corporations spent $26,897,327.82 on external communications firms between Nov. 4, 2015 and Sept. 19, 2016, according to figures tabled in the House of Commons.
The amount may be larger, however, as Natural Resources Canada, for example, was unable to provide all the contracts the department awarded during that specific time period.
Global Affairs, Health Canada among biggest spenders
Global Affairs Canada — which includes foreign affairs, international trade and international development — and Health Canada were among the departments that spent the most on external communications. They each paid $1.2 million for PR contracts.
Global Affairs Canada spent a total of $1,226,995.71 on 119 contracts, most of which was used to promote Canadian artists abroad. The department spent $2,000 contract related to the screening of films by Quebec filmmaker Robert Lepage in Paris, for example.
Contracts were also awarded to organize international summits as well as Canada's participation at conferences in the United States and Europe.
The federal government gave $23,399.87 to the Israeli firm Ben Horin & Alexandrovitz to ensure the "preparation, implementation and monitoring" of Ontario Premier Kathleen Wynne's mission in Israel this spring.
Costly consultations
Several departments spent hundreds of thousands of dollars to consult on public policies. The Canadian Environmental Assessment Agency, for example, gave Hill + Knowlton $331,844.28 to review its environmental assessment procedures.
Health Canada awarded $145,167.71 to Earnscliffe to launch "exploratory discussion groups on marijuana." A sum of $81,416.50 was also spent to EKOS Research to poll on the recreational use of marijuana.
The Trudeau government is expected to table a bill next spring on legalizing marijuana.
Surveys and focus groups on the standardization of cigarette packages cost taxpayers $245,949.70 despite the fact Health Minister Jane Philpott Health had already announced plans to force tobacco companies to use plain packages.
Canadian Taxpayers Federation calls tab 'excessive'
The Canadian Taxpayers Federation called the $27 million on external communications contracts: "excessive."
Their spokesman Carl Vallée — Conservative prime minister Stephen Harper's former press secretary — told HuffPost that most public relations' tasks "should normally be done internally".
"There are hundreds and hundreds of employees working in communications within the government, people - who are often - competent. Why not use these resources which taxpayers are already funding?
"Hiring external firms should be the exception, not the rule," Vallée added. "The current Liberal government seems to be making it the rule."
Feds sometimes need 'temporary and professional help'
A spokeswoman for the Treasury Board Secretariat — which watches over internal government spending — said the public service has excellent communications specialists which the government relies on.
"Occasionally, the Government of Canada must make use of temporary and professional help when the amount of work fluctuates in an unforeseeable fashion, that we need a unique aptitude or to fulfill temporary absences," Kelly James wrote in an email to HuffPost.
"The Government of Canada is resolved to reinforce the public service and to increase the services that are offered to Canadians while overseeing public spending in a responsible manner," James added.
With files from and translation by Althia Raj
Also on HuffPost
MPs Who Were Once Journalists (2016)