Prime Minister Justin Trudeau has accused Conservatives of trying to make a "political football" out of an Ontario judge's sentencing decision in a case involving the sexual interference of a minor.
Interim Tory leader Rona Ambrose noted in question period Tuesday that an Ontario Superior Court justice struck down a mandatory one-year jail sentence for a 50-year-old man who was found guilty of fondling a 15-year-old girl. The Globe and Mail reports that the man was sentenced to seven months behind bars and two years' probation.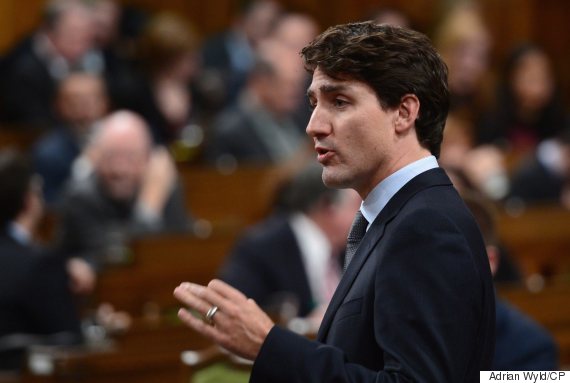 Prime Minister Justin Trudeau answers a question in the House of Commons on Nov. 22, 2016. (Photo: Adrian Wyld/CP)
The previous Conservative government brought in mandatory sentences for 60 different crimes, including those involving guns, drugs and sexual exploitation. Liberals are currently reviewing those sentences as part of the government's criminal justice reforms.
"This judge thought that one year in jail was too much, yet this prime minister is already planning to roll back mandatory jail time for all sorts of serious crimes," Ambrose said.
The Opposition leader called on the prime minister to "guarantee Canadians" that sexual assault crimes against children will still result in mandatory jail time.
"Instead of politicizing crime the way the members opposite have, I can confirm that we will always support our judiciary who make responsible, reasonable decisions about the cases before them," Trudeau responded.
'Disturbing decision'
Later, Tory deputy justice critic Michael Cooper charged that Trudeau was defending a "disturbing decision."
Cooper said Justice Minister Jody Wilson-Raybould has been critical of the last government's use of mandatory jail sentences.
The justice minister told The Globe this month that Liberals want to curb use of the practice and give judges back their discretion when it comes to sentencing.
Cooper asked Wilson-Raybould to "stand in her place" and assure Canadians the government won't repeal mandatory sentences for sexual interference involving kids.
&nbsp
"Without a doubt, child sexual assault is wrong and our government is doing everything we can to ensure that we protect children," Wilson-Raybould said.
The justice minister said the federal government wants its laws to be effective, enhance public safety and be "consistent with the constitution of this country."
The Supreme Court of Canada has already struck down some Tory-era mandatory minimum sentences for offences involving drugs.
In April, Trudeau said that while there are "situations where mandatory minimums are relevant," there is a general sense that the previous government of Stephen Harper went too far.
"This is what we are reflecting on."
With files from The Canadian Press
Also on HuffPost
Harper's Legacy: Top Achievements, Failures, According To Poll