President-elect Donald Trump reportedly tore a strip off some of the U.S.'s top news media executives in an off-the-record meeting Monday, according to news reports that the Trump team is denying.
The New York Post cited an unnamed source who said Trump began the meeting with an attack on CNN president Jeff Zucker.
"I hate your network, everyone at CNN is a liar and you should be ashamed," the source quoted Trump as saying.
"Trump kept saying, 'We're in a room of liars, the deceitful dishonest media who got it all wrong.' He addressed everyone in the room calling the media dishonest, deceitful liars.
"It was like a f--king firing squad."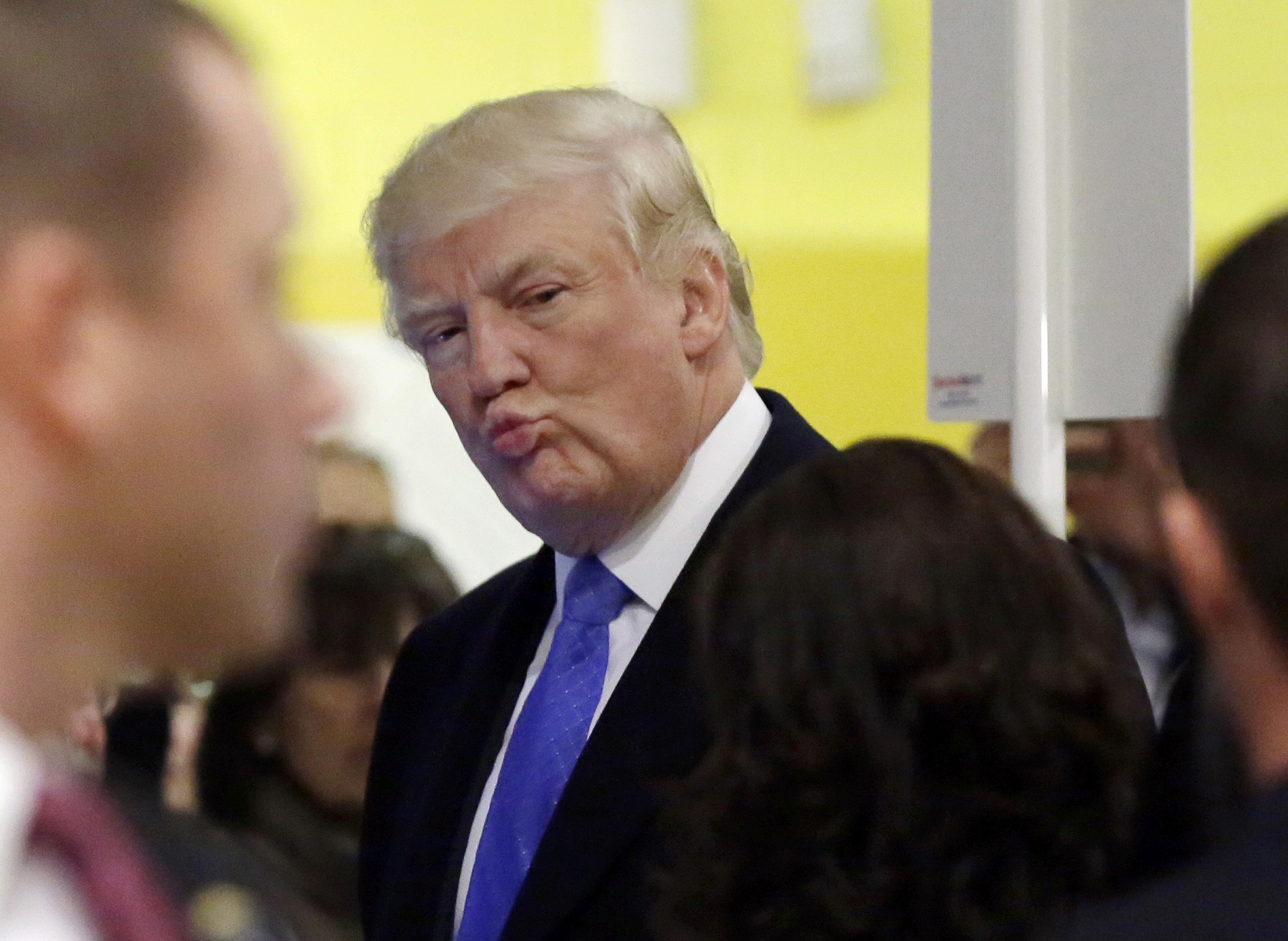 Donald Trump casts his ballot on election day in New York on Nov. 8, 2016. (Photo: Richard Drew/Associated Press)
Executives and journalists from ABC, CBS, CNN and Fox were present at the meeting at New York's Trump Tower, Business Insider reported.
A separate report from Politico, citing another source, said the meeting was "less intense" than the Post's report would suggest. But it did confirm that Trump started the meeting with heavy criticism of "dishonest media," singling out CNN and NBC in particular.
Despite this, Trump reportedly said he wants a "cordial" and "productive" relationship with the press, Politico reported.
But Trump spokesperson Kellyanne Conway said the reports of Trump's outburst were untrue.
"No, that's not true at all. I sat right to his left. He did not explode in anger," Conway said on Bloomberg News.
Another conflict broke out between Trump and the media on Tuesday, when the president-elect tweeted that he was cancelling his meeting with the "failing" New York Times.
I cancelled today's meeting with the failing @nytimes when the terms and conditions of the meeting were changed at the last moment. Not nice

— Donald J. Trump (@realDonaldTrump) November 22, 2016
The failing @nytimes just announced that complaints about them are at a 15 year high. I can fully understand that - but why announce?

— Donald J. Trump (@realDonaldTrump) November 22, 2016
"We were unaware the meeting was cancelled until we saw the president-elect's tweet this morning," said New York Times VP for communications, Eileen M. Murphy.
"We did not change the ground rules at all and made no attempt to. They tried to yesterday — asking for only a private meeting and no on-the-record segment, which we refused to agree to."
UPDATE - 11:30 a.m. ET: The meeting with the New York Times is back on, Trump announced in a tweet Tuesday morning.
The meeting with the @nytimes is back on at 12:30 today. Look forward to it!

— Donald J. Trump (@realDonaldTrump) November 22, 2016
This "shows that he is true to his word," the New York Times wrote. "He did tell the nation he wanted to keep us guessing."
UPDATE - 02:45 p.m. ET: According to the Times, Trump's incoming White House chief of staff, Reince Priebus, may have tricked the president-elect into cancelling the Times meeting.
Reince Priebus, the incoming White House chief of staff, had been among those urging the president-elect to cancel it, because he would face questions he might not be prepared to answer. It was Mr. Priebus who relayed to Mr. Trump, erroneously, that The Times had changed the conditions of the meeting, believing it would result in a cancellation, these people said.
Many Trump supporters have argued that the media's failure to predict the real estate mogul's electoral win is a sign they were misleading the public.
In recent days, the media have criticized Trump for breaking with convention and failing to alert them of his whereabouts, or have a member of the press with him at all times.
That was highlighted by an incident last week when reporters lost track of the president-elect after he left Trump Tower without informing them.
It turned out he was having dinner at the ritzy 21 Club with his daughter Ivanka and her husband, Jared Kushner.
Also on HuffPost