It can sometimes be a pain for parents to come up with new, creative ideas for the Elf on the Shelf every night. That's why it's always a good idea to have a list of excuses in your arsenal to explain why Santa's little scout "forgot" to move.
To make the Christmas tradition a little easier for parents, we've rounded up 15 best excuses for why the elf didn't move last night. These simple, but genius ideas will be your lifesaver this holiday season.
1. He got stuck.
Let's use some tongs to help him get free.
2. You didn't go to bed early enough. (via Baby Hints & Tips)
The elf only moves when you're asleep, but you took so long to get to bed last night that he fell asleep waiting for you!
3. It's too warm in the house. (via Living Locurto)
Since elves are used to the cold climate of the North Pole, they often "lose their magic overnight when the temperature gets too warm," blog Living Locurto explains. To restore the elf's magic, simply use tongs to pick him up and place him in the fridge for 30 to 45 minutes.
4. He's on strike. (via A Thrifty Mom)
The elf knew you were naughty yesterday, so he's on strike. It looks like he's giving you a second chance to correct your behaviour before he flies back to the North Pole to report to Santa.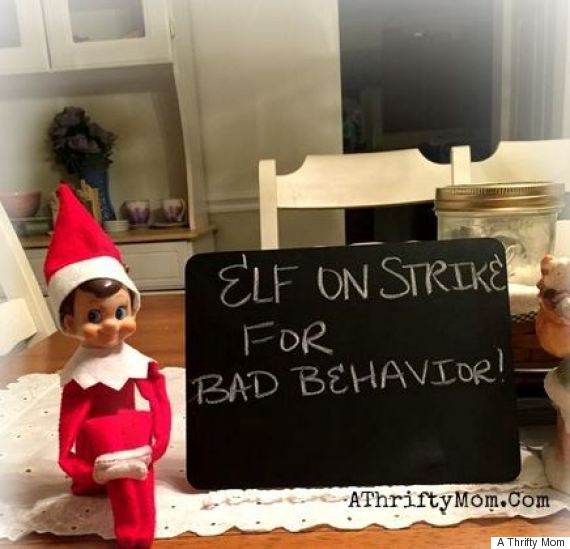 5. He's playing a trick on you. (via Baby Center)
"Sometimes elves pick the same spot to make sure you were paying attention," Baby Center explains.
6. The weather is bad.
The bad weather made it unsafe for him to fly back to the North Pole. Hopefully the weather will be better tonight.
7. He found his favourite spot.
Looks like he was so comfortable, he didn't want to move! The Elf on the Shelf website explains, "Sometimes your elf will have a favourite spot they like to return to day after day, just like you might have a favourite chair or a spot on the couch."
8. The toys are still holding him hostage.
Hopefully he'll be able to wriggle free tonight.
9. He's tired.
The elf's nightly trips to the North Pole have left him exhausted and he needs to catch up on sleep.
10. He's saving his magic. (via BabyCenter)
Sometimes elves like to save their magic for a few days to give good kids an extra big surprise. (Just make sure you follow through if you use this excuse. Click here for some great Elf on the Shelf ideas that will really impress the kids.)
11. You've been so good, he didn't need to move. (via Simple Most)
12. He broke his leg. (via Courtney Davis Boles)
Oops. Looks like he won't be able to move for the next few weeks.
13. He's scared of the pets in the house. (via ABC13)
14. Someone touched the elf.
Everyone knows that accidentally touching the elf will make him lose his magic and prevent him from fly back to the North Pole. To help restore his magic, the Elf on the Shelf website recommends kids do one of three things: write a letter to Santa to apologize for touching the elf, sing Christmas carols (which elves love), or sprinkle a little cinnamon beside the elf before bed.
15. He forgot he was there yesterday!
Silly elf.
Also on HuffPost