OTTAWA — Two former heads of military procurement have slammed the Liberal government's plan to buy 18 Super Hornet fighter jets as a legally dubious waste of taxpayer dollars. The Liberals announced this week that the government will launch an open competition next year to replace all 77 of the air force's CF-18s — a process that's expected to last up to five years.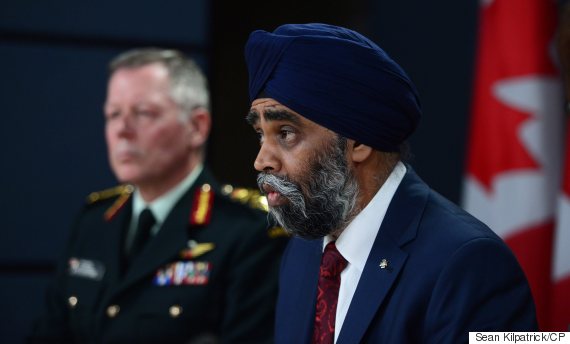 Defence Minister Harjit Sajjan and Chief of Defence staff General Jonathan Vance attend a news conference in Ottawa on Nov. 22, 2016. (Photo: Sean Kilpatrick/CP)
In the meantime, they say they will enter negotiations to purchase Boeing Super Hornets without a competition because the air force is facing a critical shortage of warplanes, which poses an "urgent" need. Such a need is one of the few exceptions in the federal procurement law that lets the government purchase new military equipment as a stop-gap until a full competition can be held. Applying the exception will let the government "move forward on an expedient basis to obtain the equipment that the men and women of the air force needs," Jessica Turner, Public Procurement Minister Judy Foote's spokeswoman, said in an email. The previous Conservative government introduced the clause last year to fill a gap after its two resupply vessels were forced to retire early.
No urgent need?
The Conservatives subsequently awarded a $700-million contract to Davie Shipyard in Levis, Que., to modify a civilian ship to provide resupply capabilities for the navy until full replacements could be built. But in separate interviews, Alan Williams and Dan Ross said they don't believe there really is an urgent need, because the government could pick a new fighter jet through an open competition in two years or less. "I question the whole legality of this," said Williams, who served as assistant deputy minister of materiel at National Defence from 2000 to 2005 and has been a vocal critic of sole-sourcing defence contracts. "Holding a competition within a year is even doable. It's not like you're starting everything all over again."
"The taxpayers will bear the cost of this and it's not necessary."
They also said operating an "interim" fleet would significantly increase the air force's operational costs, not to mention the billions that will be spent to simply acquire the Super Hornets. "This was probably the worst possible option," said Ross, who succeeded Williams as assistant deputy minister of materiel and recommended the F-35 to the previous Conservative government. "The taxpayers will bear the cost of this and it's not necessary." The government has refused to say how much it expects to pay for the Super Hornets, or what it will do with them if another jet fighter wins the promised competition.
Figures could run as high as $8B, they say
But Ross and Williams predicted the figure could run anywhere between $3 billion and $8 billion, depending on what is included and how long they are kept. Officials say the cost of the Super Hornets won't hit the government's bottom line or make the deficit any bigger in the short term because there is already $9 billion set aside by the previous Conservative government for the purchase of fighter jets. However, there is no extra money in the fiscal framework for another tranche of jets. Those planes will need fresh financing to the order of many billions of dollars.
Boeing's rivals grumbling
Analysts have long warned that the military is dealing with unrealistic expectations under a tight spending cap, though the government says it will address that problem with a new defence policy next year. Representatives for Boeing's rivals were quietly grumbling on Wednesday about the government's decision to buy the Super Hornets without a competition. But none was prepared to make a public fuss, saying instead that they planned to bring their concerns to the government when it launches a competition next year.
Also on HuffPost
Current MPs With Military Experience (2016)