A week after she likened the federal government's treatment of Alberta's job situation to a "fart in the room," Tory MP Michelle Rempel joined "This Hour Has 22 Minutes" to address the fallout from her colourful comment.
Rempel, who used the word while delivering an impassioned speech about job losses in her home province, made headlines last week after Green Party Leader Elizabeth May took issue with her choice of words and asked her to withdraw her comment.
The story was even picked up by the BBC.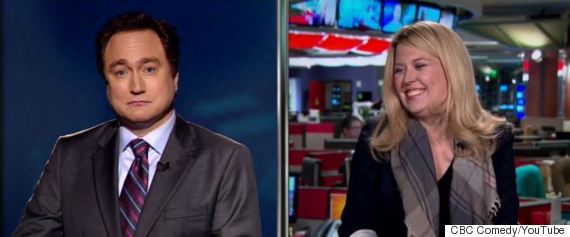 Tory MP Michelle Rempel laughs on "This Hour Has 22 Minutes" after hearing a fart pun. (Photo: CBC Comedy/YouTube)
"Alberta has always been known for its natural gas but this is the fart heard around the world," said the show's Mark Critch, beginning what is essentially two full minutes of one fart pun after another.
"I'm trying to draw attention to a very serious problem for all of Canada," Rempel replied, "and somebody took offence with something that just lingered over the House of Commons."
"Is this a case of she who spelt it dealt it?"
"Listen, Alberta's tired of turning the other cheek and I'm just going to say that."
Critch noted May was so taken aback from Rempel's use of the word "fart" that she couldn't even say it in the House. May opted to refer to the comment by spelling it out: "F-A-R-T."
The comedian then brought up a very important point about May's objection: "Is this a case of she who spelt it dealt it?"
Watch the video above for the full segment and more fart puns.
Also on HuffPost
How Much Are Federal Politicians Making? (2016)