Rick Mercer says Conservative leadership candidate Kellie Leitch is an impressive candidate who is "trilingual."
"She speaks English, French and a secret language that only really angry white people can understand," the CBC comedian said in his latest rant on Tuesday's "Rick Mercer Report."
Mercer's segment took aim at the Tory MP's controversial proposal to screen immigrants and visitors to Canada for so-called "anti-Canadian values."
Leitch, who was a cabinet minister in the former Conservative government, has not detailed what kind of questions would be included in such a screening.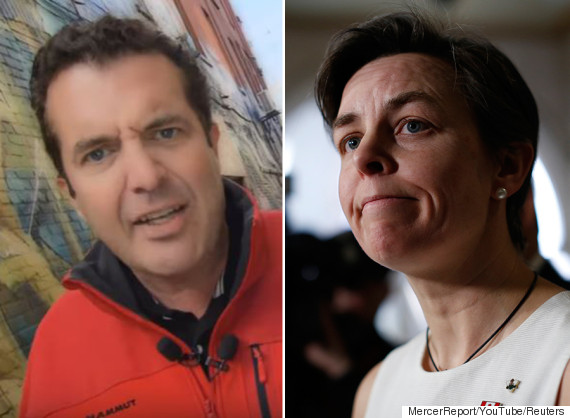 Rick Mercer took aim at Tory leadership candidate Kellie Leitch's controversial proposal to screen immigrants for "anti-Canadian values." (Photo: YouTube/Reuters)
But Mercer has some ideas of what the screening would look like.
"If you look like me and your cousins show up from California or the UK, you'll be fine," he said.
"If your name is Omar or Ahmed, you might want to schedule a few extra hours out at the airport."
Mercer disagreed with Tories who argue Leitch should be ignored or that her proposal is solely meant to garner attention.
'Please get involved'
He warned Conservatives in his rant that anything is possible in a "post-Trump world."
"If you're a Conservative, please get involved, otherwise someone might," Mercer said.
Shortly after the U.S. election, Leitch said Donald Trump's victory sent an "exciting message" that needed to be delivered in Canada as well. That comment and her enthusiasm for Trump's victory netted her criticism from some of her fellow leadership candidates.
The party will select its new leader in May.
Watch the full segment in the video embedded above.
Also on HuffPost
Conservative Leadership Candidates