He didn't do it, his truck did.
A Florida man charged in a hit-and-run accident last month could have tried to argue such a thing after video footage allegedly showed him falling out of his truck before it crashed into a home.
William Robert Edwards was charged with leaving the scene of a crash involving property damage after an incident in the early morning of Oct. 25.
In an arrest report, the Florida Highway Patrol alleges Edwards left the Dancers Royale nightclub in Orlando in a white Ford F150 pickup truck, against the advice of security staff who thought he was drunk. He also left his driver's license behind at the club.
Security footage obtained by The Huffington Post Canada shows a truck pull onto the road and drive several feet before its driver falls out and is run over by the left rear tire.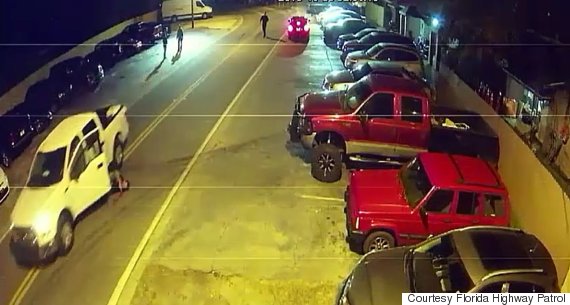 Security footage from outside a nightclub in Orlando, Fla. shows the driver of a white Ford F150 fall out and then be run over by the left rear tire. His vehicle later crashed into a home. (Screenshot: Courtesy Florida Highway Patrol)
Witnesses quickly take notice, with one person running back into the nightclub and another attending to the driver.
The truck then continued to travel west, according to the arrest report, until it smashed into the front of a residence.
Woman was asleep in room that truck hit
Adrean Larrea, whose mother was asleep in the room that the truck hit, told WFTV she's lucky to be alive.
"If that ditch wasn't there, my mom would be in a funeral right now, underground," he said.
"They had to break the window to get in to turn off the car because the car was like smoking."
Edwards fled on foot, according to the arrest report, but turned himself in several days later after officers got in touch with his family.