Barack Obama made his final Thanksgiving turkey pardon on Wednesday, and in typical Barack fashion, he made sure the occasion was filled with his best dad jokes.
"I know there are some bad ones in here, but this is the last time I'm doing this, so we're not leaving any room for leftovers," he laughed.
While the U.S. president's daughters, Malia and Sasha, missed the White House ritual for the first time this year, Obama's two nephews, Austin and Aaron Robinson, stood in their place.
"Unlike Malia and Sasha, [they] have not yet been turned cynical by Washington," he joked. "They still believe in bad puns. They still appreciate the grandeur of this occasion. They still have hope."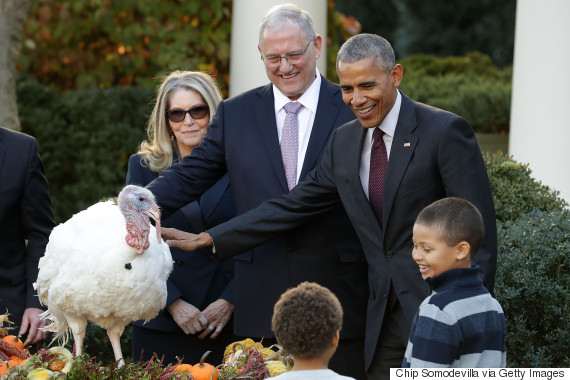 During the ceremony, Obama spared turkeys Tater and Tot and let his best puns fly. "I want to take a moment to recognize the brave turkeys who weren't so lucky, who didn't get to ride the gravy train to freedom and who met their fate with courage and sacrifice and proved that they weren't chicken," he said.
The 55-year-old also noted that Thanksgiving is a time to give back: "We should also make sure everyone has something to eat on Thanksgiving, except for the turkeys because they're already stuffed."
The best @POTUS Thanksgiving pun ever? pic.twitter.com/lpGFL1aDvQ

— Mashable News (@MashableNews) November 23, 2016
And for his best pun yet, the U.S. president left Americans with a positive phrase to get them through all the dishes the Thanksgiving meal brings: "Yes we cran."
Hear more of Obama's best dad jokes in the video above.
On Twitter, Obama's knee-slappers didn't go unnoticed. Many users couldn't help but crack up over the ridiculous pun-filled event.
My mom and I just watched Obama pardon the turkeys and we went "Ohhhh!" everytime he made a pun like he just won a rap battle.

— It's a me, April (@InyaMeam420) November 23, 2016
Obama in full pun mode talking foul thanksgiving traffic is well up there with the week's highlights! #fowltraffic #taterandtot pic.twitter.com/nq9tQz4fpN

— Anna Caldwell (@annacaldwell) November 23, 2016
Does anyone else thing that Sasha and Malia being "pardoned" from the @POTUS Turkey Pardon is probably Obama's own secret dad joke pun?

— Nicole (@NikkieMarie) November 24, 2016
Obama going on a pun train during his turkey pardon 😂😂😂 does he usually do that? I don't think I've every watched a pardon before

— Lusty Justice (@lustyjustice) November 23, 2016
Also on HuffPost
Malia & Sasha Obama Through The Years