Sometimes you just need to satisfy your sweet tooth. That applies to bears too, apparently.
A Florida couple was surprised to see a black bear sneak into their garage and rummage through their freezer. What shocked them even more was the bear's unusual food preferences.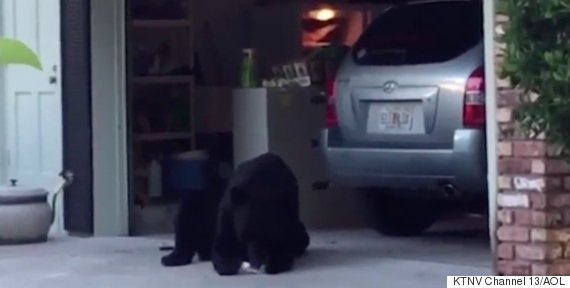 A neighbour filmed the incident. (Photo: KTNV Channel 13/AOL)
"It ignored all the frozen meat and all the frozen fish," homeowner Mike Chindamo told WESH 2 News, adding that it went straight for a tub of ice cream and his wife's frozen zucchini cakes.
A neighbour caught the incident on film, as the bear moved from the garage onto the driveway and munched on the desserts. (Watch the video above to see it in action.)
Neighbours said the bear, although it was incredibly large, wasn't aggressive — it simply wanted some cake and ice cream.
We've all been here.
Follow The Huffington Post Canada on Facebook, Twitter, and Instagram.
Also on HuffPost
Baby Bears In Waterton Lakes National Park