Ontario's newest Liberal MPP Nathalie Des Rosiers was sworn into office on Monday, but the province's youngest-ever legislature member — elected the same day — was nowhere to be seen.
According to longtime Queen's Park journalist Randy Rath, the Progressive Conservative Party's youngest MPP Sam Oosterhoff was busy with other party matters.
Patrick Brown says Sam Oosterhoff hasn't taken his seat in Ontario's Legislature because he is busy planning a party to celebrate the event.

— Randy Rath (@rath_randy) November 28, 2016
Oosterhoff offered a congratulations to Des Rosiers, a constitutional lawyer, on being sworn in to her new role. He confirmed he would be joining his new colleagues mid-week.
@ndesrosiers congratulations! Looking forward to joining you this Wednesday!

— Sam Oosterhoff (@samoosterhoff) November 28, 2016
Party leader Patrick Brown did not respond to The Huffington Post Canada's request for comment on whether the timing of Oosterhoff's absence has any relation to a debate on Bill 28 this week.
A third reading of the bill, called the All Families Are Equal Act, is scheduled for Tuesday. It proposes to update the wording of "mother" to "birth parent" in the Children's Law Reform Act and Vital Statistics.
If passed, the amendments will end the legal requirement for same-sex couples to adopt their own children if they were carried by surrogates or conceived through assisted reproduction technologies.
Oosterhoff, who lives with his parents, has avoided answering direct questions about his stance on the bill and on same-sex marriage.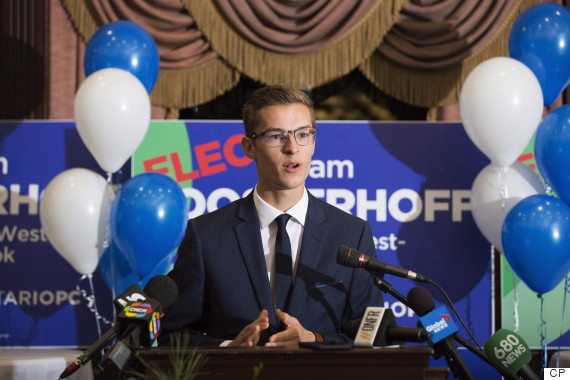 Nineteen-year-old Sam Oosterhoff speaks to supporters after winning the byelection in Niagara-West Glanbrook, becoming Ontario's youngest-ever MPP on Nov. 17 in Grimsby. (Photo: Aaron Lynett/The Canadian Press)
The Brock University student won a provincial byelection in Niagara West-Glanbrook this month, filling a seat left by the party's former leader, Tim Hudak.
Liberals labelled the teen a conservative firebrand and accused him of hiding his social conservative values during the campaign.
Had the opportunity to visit QP and look up my caucus colleagues / office spaces; going to be working hard! pic.twitter.com/hEY09F8Iak

— Sam Oosterhoff (@samoosterhoff) November 22, 2016
During a candidates debate prior to the byelection vote, the 19-year-old ducked questions asking him if he had been told by Brown to soften his views on the province's sex-education curriculum.
Oosterhoff has campaigned against Ontario's new sex-education curriculum — contrary to the position held by Brown. But despite their difference of opinion, Brown defended the teen against Liberal attacks earlier this month.
"The Liberals resorted to a smear campaign on Sam, but Sam focused on jobs. Sam focused on how we're going to get Ontario back on its feet," he said.
Bill 28 will go to a vote this fall.
With files from The Canadian Press
Also on HuffPost
16 Celebrities with LGBTQ Parents