Prime Minister Justin Trudeau will not attend the funeral of former Cuban president Fidel Castro, his office confirms.
Governor General David Johnston will instead represent Canada at a commemoration for Castro in Havana on Tuesday. Johnston said in a release that he was making the trip "at the request" of Trudeau.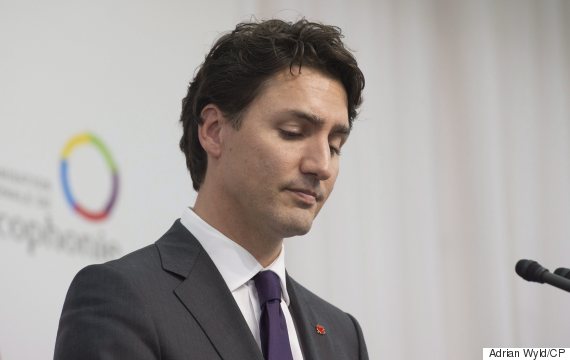 Prime Minister Justin Trudeau speaks in Antananarivo, Madagascar, on Nov. 27, 2016. (Photo: Adrian Wyld/CP)
The prime minister sparked international headlines over the weekend after he released a statement lauding Castro as a "larger-than-life leader" and "legendary revolutionary" who improved health care and education for Cubans.
He also noted his father's personal friendship with the infamous communist leader, who died Friday at the age of 90.
Though Trudeau conceded in the statement that Castro was a "controversial figure," many took to social media to criticize the prime minister for glossing over the significant human rights violations that marked Castro's five decades in power.
A day later, Trudeau told reporters that Castro was a dictator, but suggested his statement was meant to reflect the deep relationship between Canada and Cuba.
Tory leadership contenders urged PM to skip event
Conservative leadership contender Lisa Raitt publicly called on Trudeau not to attend Castro's funeral in an open letter on Facebook, and said the prime minister should be "ashamed" of his words.
"Canada must not be seen celebrating the life of a tyrant," Raitt said. "The eyes of Canadians are watching you. Will you stand with the millions of oppressed Cubans or side with their oppressor?"
Leadership rival Maxime Bernier said in a release that Trudeau's presence at Castro's funeral could jeopardize relations with the United States. President-elect Donald Trump called Castro a "brutal dictator."
"Trudeau's comments have brought international mockery on Canada. Attending the funeral of this dictator will add insult to injury," Bernier said.
Castro was an honorary pallbearer at Pierre Trudeau's funeral
Castro memorably served as an honorary pallbearer at the state funeral of Pierre Trudeau in 2000. In 1976, Pierre Trudeau became the first NATO leader to visit post-revolution Cuba.
Prime Minister Justin Trudeau visited Cuba earlier this month where he met with president Raul Castro, Fidel's younger brother.
With a file from Catherine Levesque
Also on HuffPost