COLD LAKE, Alta. – A pilot killed when his CF-18 fighter jet crashed during a routine training exercise near the Alberta-Saskatchewan boundary is being remembered as a dedicated airman who served overseas and once helped escort Santa on a Christmas delivery mission.
Capt. Thomas McQueen, 29, from the Hamilton area, had been with the military for a decade and was engaged to be married.
He was a member of 401 squadron at 4 Wing Cold Lake in northeastern Alberta.
"I can tell you first-hand how much of an incredible person he was and that he was dedicated to the service of Canada,'' Col. Paul Doyle, commanding officer of the base, told reporters Tuesday.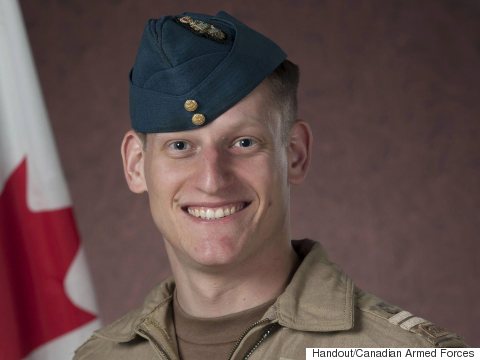 Capt. Thomas McQueen was killed after the CF-18 jet he was flying crashed near the Alberta-Saskatchewan boundary. (Photo: Handout/Canadian Armed Forces)
Doyle said he had been one of McQueen's instructors and had tremendous respect for the pilot.
"His energy and dedication caused him to be recognized as the leader among his peers. He will be, and is, forever missed.''
McQueen's single-seat fighter went down Monday morning on the Saskatchewan side of the Cold Lake Air Weapons Range. McQueen was flying with another plane in an air-to-ground attack simulation, said Doyle.
He did not provide details of the crash, including whether McQueen was able to eject from the plane. An investigation is underway to determine what went wrong.
"It is still very raw for us and we will find out what did happen,'' Doyle said.
"It's like we lost a member of our family yesterday."
"Operating a supersonic fighter aircraft in dynamic manoeuvring is not something that we take lightly,'' he added. "We make sure we train ourselves and prepare ourselves to the highest standards of professionalism.''
McQueen was born and raised in Fisherville, Ont., just south of Hamilton, said Lyn Raynor, a neighbour of the family.
"He never wanted to be anything but a pilot since he was a young boy,'' she said.
"Will miss my big brother,'' Aaron McQueen wrote on Twitter, declining a phone interview. "So proud of him.''
Will miss my big brother. Captain Thomas McQueen 1987-2016 in service of his country. So proud of him pic.twitter.com/FEJFDQRC9r

— Aaron McQueen (@aaronmcQueen93) November 29, 2016
"His sacrifice will be remembered by all Canadians,'' Prime Minister Justin Trudeau said in a statement. "This accident is another painful reminder of the dangers that members of the Canadian Armed Forces face every day to ensure the safety and security of our citizens.''
Gen. Jonathan Vance, chief of the defence staff, offered his sympathies to McQueen's comrades in Cold Lake.
"Every day, members of the Canadian Armed Forces prepare themselves for the responsibility of shielding their fellow citizens from harm,'' Vance said in a statement. "That training is both rigorous and demanding. It has to be.''
About 10 pilots have died in CF-18 crashes since the military first bought the jets in 1980.
In 2003, Capt. Kevin Naismith was killed when the CF-18 he was flying went down during an international training exercise on the Cold Lake range. In 1995, Capt. Richard Bailey died when his CF-18 also crashed on the range.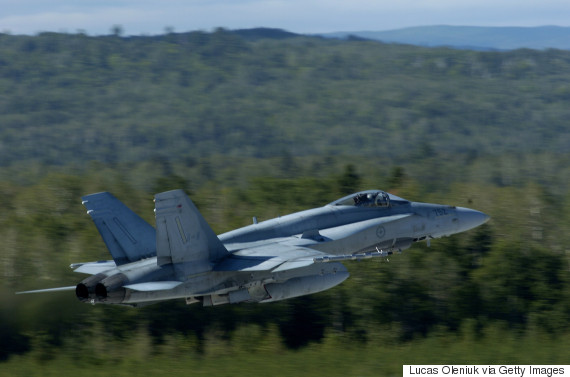 The single-seat CF-18 that crashed was based out of Canadian Forces Base Cold Lake. (Photo: Royal Canadian Air Force)
The federal government has said many of the force's aging CF-18s are out of service on any given day because of maintenance issues. Ottawa is preparing to negotiate the purchase of 18 new Super Hornet fighter jets that it says it needs until a competition to replace the CF-18s can be finished.
The Air Force announced last week that all 77 of Canada's CF-18s will be able to fly until 2025.
Also on HuffPost
Photographer's Project Captures Incoming Jets