U.S. Vice President Joe Biden is coming to Ottawa next week for an official visit.
The Prime Minister's Office announced Tuesday that Biden will be in the capital on Dec. 8 and 9 to meet with Prime Minister Justin Trudeau. Biden will also be feted at a dinner in his honour.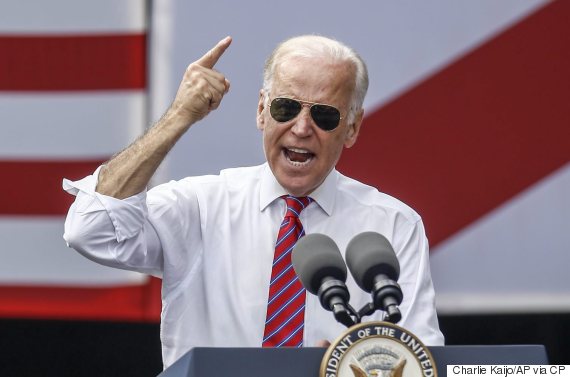 Vice President Joe Biden speaks to a crowd in Tampa, Fla. on Nov. 2. (Photo: Charlie Kaijo/AP via CP)
"I look forward to meeting with Vice President Biden and discussing the strength of our two countries' relationship," Trudeau said in a media release.
"Canada has no closer friend, partner, and ally than the U.S. and our relationship with our neighbour to the south is critical to citizens on both sides of the border."
Biden to talk with premiers
The trip will coincide with a meeting Trudeau will host with his provincial and territorial counterparts, as well as aboriginal leaders, in Ottawa next Friday. The first ministers are expected to discuss climate change and, if premiers get their way, health care funding.
Biden will also meet with premiers to discuss a "range of bilateral and global issues," the U.S. embassy announced in its own release.
Canada-U.S. relations uncertain under Trump
The visit comes as Canadian politicians wrestle with the unclear direction of Canada-U.S. relations as Republican president-elect Donald Trump prepares for his inauguration on Jan. 20.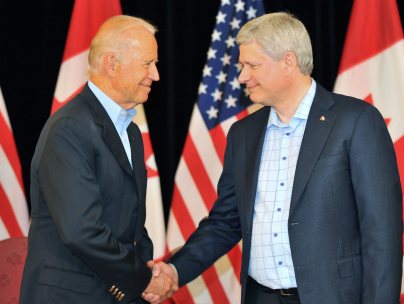 U.S. Vice-President Joe Biden shakes hands with former prime minister Stephen Harper in Vancouver on July 5, 2015. (Photo: Don MacKinnon/CP)

Trump pledged on the campaign trail to reopen the North American Free Trade Agreement and has already signaled he will pull the United States from the 12-country Trans-Pacific Partnership and Paris climate agreement.
Though the Trudeau government is moving forward with plans for a national carbon tax, Trump has in the past called climate change a hoax.
But like Trudeau, the president-elect supports the Keystone XL pipeline — a contentious project outgoing U.S. President Barack Obama rejected.
VP: Canada an 'incredible ally'
Biden visited Canada in 2015 to attend the FIFA Women's World Cup final in Vancouver. The vice-president also met with then-prime minister Stephen Harper.
Biden told reporters at the time that Canada was the United States' "most reliably certain and consequential" ally.
"You're not supposed to say that, but Canada is an incredible, incredible ally," he said at the time.
Obama visited Ottawa in June for the Three Amigos summit. In his address to Parliament, he heaped praise on Canada but also urged the country to pay its full share to NATO.
"The world needs more Canada, NATO needs more Canada," Obama said. "We need you."
With a filed from The Canadian Press
Also on HuffPost
Obama and Trudeau Are Just Awesome Together