OTTAWA — Prime Minister Justin Trudeau is confirming plans to meet with his provincial and territorial counterparts Dec. 9 in Ottawa, as well as with First Nations, Inuit and Metis leaders. In a statement, the Liberal government touts its efforts to work with the provinces and territories on a "pan-Canadian" framework for clean growth and climate change.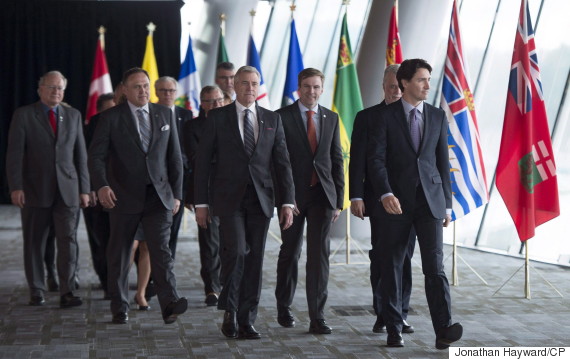 Prime Minister Justin Trudeau leads Canada's premiers to a news conference during the First Ministers Meeting in Vancouver, B.C. on March 3, 2016. (Photo: Jonathan Hayward/CP)
The statement says the ministers will work to finalize that framework during the meeting, and confirm the steps necessary to implement it. It doesn't mention health care funding, which the premiers have made clear they intend to put on the meeting agenda, whether the prime minister wants it there or not.
On December 9th, I'll host a First Ministers' Meeting and meet with First Nations, Inuit, & Métis leaders in Ottawa: https://t.co/ZDQ3bqX9hM

— Justin Trudeau (@JustinTrudeau) November 29, 2016
The provinces and territories are pushing back against federal plans to halve the amount by which federal health transfer payments increase each year. The statement says Trudeau's meeting with the leaders from the Assembly of First Nations, Inuit Tapiriit Kanatami and the Metis National Council will "discuss the framework and indigenous perspectives" in advance of the first ministers' meeting.
Also on HuffPost
First Ministers' Conference 2015