VERBANIA, Italy — Italy's Emma Morano, the world's oldest living person, marked her 117th birthday Tuesday, blowing out all the candles on her cake.
Beaming at the attention, Morano took in the festivities for her milestone celebration sitting in an armchair in her one-room apartment in the northern town of Verbania, joined by her two elderly nieces, a pair of caregivers and her long-time physician.
She received a greeting from Italy's president, read by an official, wishing her "serenity and good healthy,'' and appeared for a brief live broadcast on state-run television. She happily accepted some gifts, including her favourite cookies, which she ate with some milk.
Then she blew out the candles on her cake — not one for every year, but three numerals to show her age, 117 — and quipped: "I hope I don't have to cut it!''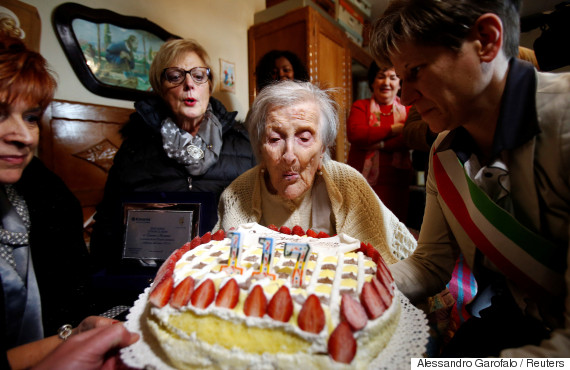 Emma Morano, thought to be the world's oldest person and the last to be born in the 1800s, blows candles during her 117th birthday in Verbania, northern Italy on Tuesday. (REUTERS/Alessandro Garofalo)
To the assembled well-wishers, Morano said, "I am happy to turn 117,'' and drew encouragement from her physician, Dr. Carlo Bava.
"Who would have said it?!'' the doctor remarked. "When you were young everyone used to say you were weak and sick.''
"Yes, yes,'' she responded.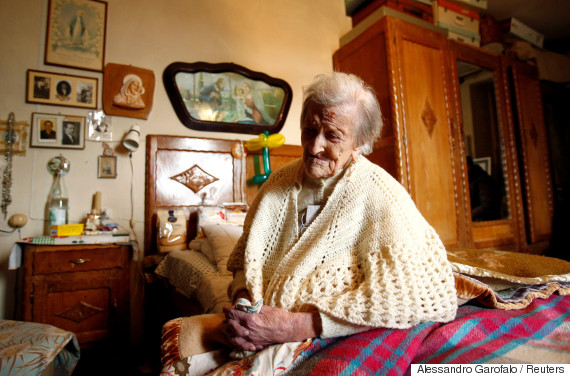 Morano sits on her bed following her birthday party. (REUTERS/Alessandro Garofalo)
Another party, including a visit from the mayor and another cake, was planned for the afternoon, after a nap.
Morano, who is believed to be the last surviving person in the world born in the 1800s, became the oldest living person in May.
Italy is known for its centenarians — many of whom live on the Mediterranean island of Sardinia — and gerontologists are studying Morano, along with a handful of Italians over 105, to try to figure out their longevity. Bava has credited Morano's long life to her genetic makeup, "and nothing else.''
Also on HuffPost
Michael Mannion/AP

Georges Gobet/POOL/AP

AP

Maria Esther de Capovilla, Age 116

Victor Proanio/AP